< Professor Sangmin Bae >
A water bottle designed by researchers from the ID+IM Design Laboratory led by Professor Sangmin Bae from the Department of Industrial Design won the packaging section of the 2020 iF Design Award.
The iF Design Award, hosted by the Hannover Exhibition Center in Germany, is one of the three major international design competitions. It receives more than 7,000 submissions from participants representing 60 countries.
The Jeju Yong-Am-Soo (which means 'volcanic mineral water' in English) bottle design was a product of an academic-industrial cooperation project carried out by Professor Bae's team and a Korean confectionery company, Orion Corporation, to create a design for a premium mineral water bottle.
The motif of the awarded design was the beautiful nature of Jeju Island in Korea. The columnar joints and the horizon of Jeju Island were each represented by horizontal and vertical lines, completing a simple yet sensuous design.
The mystical volcanic Mount Halla printed on the transparent front-label of the bottle represents the daytime of Jeju Island, while the rear-label design, which is reflected through the transparent front-label, symbolizes the nighttime of Jeju Island. By putting the Orion constellation, a symbol of tourist's guide, right above the Orion Corporation's brand logo, Professor Bae's team ambiently promotes the company's identity.
Although the design uses a significantly smaller amount of materials than traditional water bottles, it can withstand about four times the pressure and weight. The efficient structure therefore shows excellence in both aesthetic and functional areas.
Professor Bae said, "I am happy with the fact that the result of this academic-industrial cooperation project became mass-produced through commercialization and was recognized by an international design award." He continued, "Even though it was difficult for my team to come up with the design that fits both manufacturing and the distribution processes, we worked hard to achieve the structural and functional aspects, while also expressing beauty through its appearance."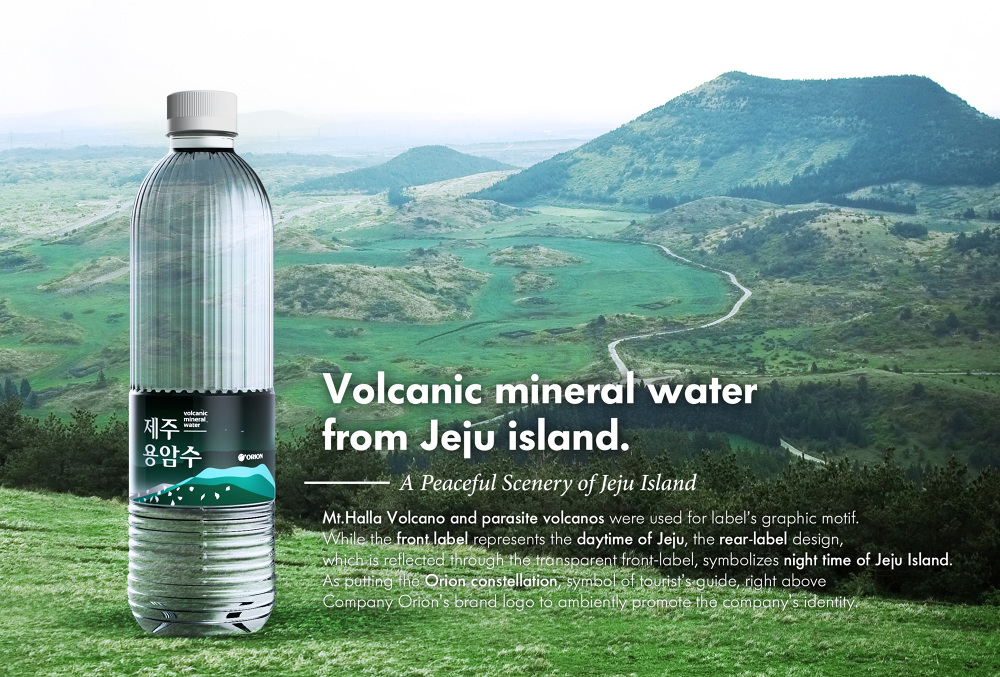 < Awarded Design >
(END)