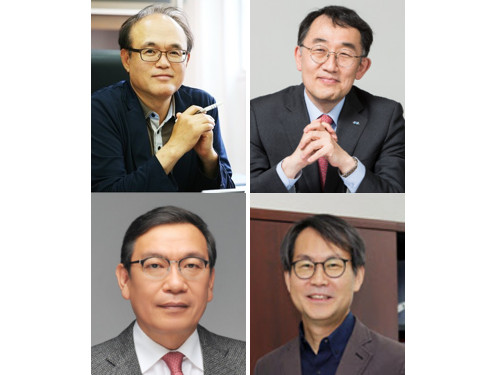 < Clockwise from top left: Professor Doo-Hwan Bae, Professor Seung Seob Lee, Professor Kyung Cheol Choi, Professor JaeYong Choung >

Seven KAIST faculty members have been elected as National Academy of Engineering of Korea (NAEK) members and associate members. NAEK, the most prestigious engineering society in Korea, elects new members with a minimum of 15 years of experience in engineering in academia and business every year.
In 2022, 24 members were newly elected from academia, including four KAIST faculty members: Professor Doo-Hwan Bae from the SW Education Center, KAIST Provost and Executive Vice President Seung Seob Lee, Professor JaeYong Choung from the School of Business and Technology Management, and Professor Kyung Cheol Choi of the School of Electrical Engineering. In the business sector, 21 members were elected as members in business, including Vice Chairman Jong-hee Han of Samsung Electronics, CEO Hyeon-Mo Ku of KT, President Sang-Ryul Lee of the Korea Aerospace Research Institute, President Kyo Won Jin of SK Hynix, CEO Eunkang Song of Capstone Partners, and Executive Vice President Se-hoon Kim of Hyundai Motor Company.
Among the newly elected 40 associate members from academia, three KAIST professors were listed: Professor Sukyoung Ryu from the School of Computing, Professor Joongmyeon Bae from the Department of Mechanical Engineering, and Professor EunAe Cho from the Department of Materials Science and Engineering. Another 44 members were elected as associate members in business, including Vice Chairman Hag-Dong Kim of POSCO, President Seong-Hyeon Cho of Mando Corp, President Siyoung Choi of Samsung Electronics, President Joo Sun Choi of Samsung Display, and Chairman Byung-Gyu Chang of Krafton.
NAEK evaluates candidates not only on their academic achievements, but on various other criteria including technological achievements, patents, the nurturing of talents, and contributions to the advancements of the industry. Candidates are then elected through written ballots by the members of NAEK. There are now 294 members and 360 associate members of NAEK.