Seegene donates testing reagents for 40,000 people with results available in three hours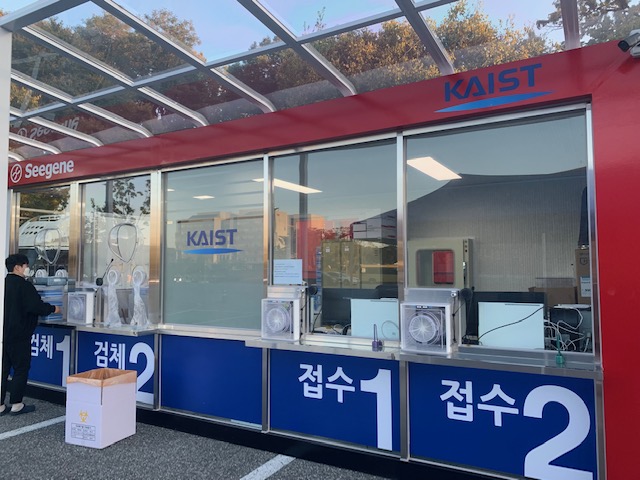 < Any KAIST community member can get a Covid-19 test on campus and receive the results within three hours at the Mobile Station develped by Seegene. >
Seegene, a molecular diagnostic testing company, donated enough testing reagents for 40,000 COVID-19 tests for the KAIST community and set up a mobile testing station run by the Seegene Medical Foundation on October 28.
The entire COVID-19 diagnosis process, including specimen collection, PCR testing, and results analysis, can be conducted at the mobile testing unit developed by Seegene. The on-site testing station will help the campus get ready to return to normal, especially as the government is transitioning toward its 'living with Covid-19' policy, which eases a range of social distancing restrictions. Any KAIST community member can get a Covid-19 test on campus and receive the results within three hours. The station can conduct up to 7,500 tests per day.
This is an extension of the agreement between KAIST and Seegene made in July for research collaboration. The two institutions will work together on various research projects including ultrafast PCR testing, sample collection, and cloud-based data transmission and analysis.
Prior to this donation, according to an administrative order from Daejeon City, KAIST opened a temporary COVID-19 testing center in collaboration with Seegene and conducted COVID-19 tests at the KAIST Clinic over four days starting from September 28. All students living on campus were tested, and all 2,775 tested negative.
Seegene CEO Jong-Yoon Chun said, "KAIST and Seegene signed an agreement for collaborative research on molecular diagnosis in July prior to this donation, and we are happy to maintain a connection with KAIST." He added, "We hope that this donation will help students return to their ordinary university lives."
Vice President for Planning and Budget Bowon Kim said, "As KAIST is currently planning to conduct offline lectures in preparation for 'living with COVID-19', Seegene's donation will be particularly helpful." He added, "The two institutions will continue to cooperate, leading to not only the short-term stabilization of the campus, but also collaborative research for the vitalization of molecular diagnosis technology and the bio industry."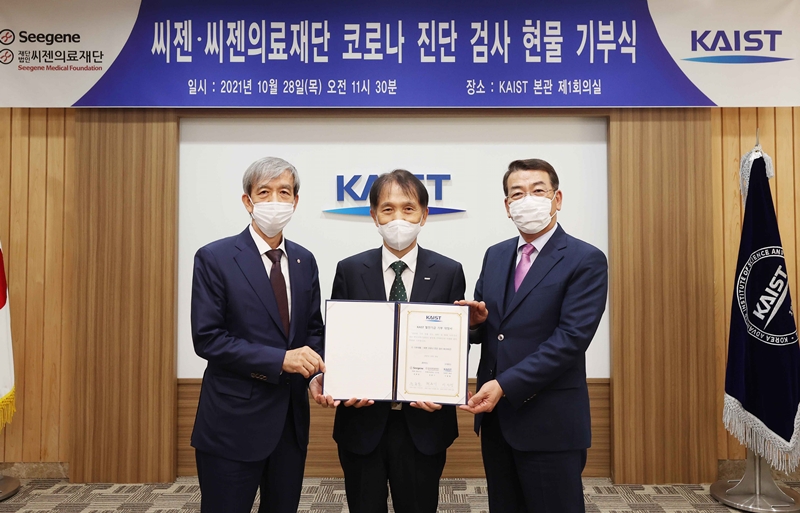 < Seegene CEO Jong-Yoon Chun (far left), President Kwang Hyung Lee, and Seegene Medical Foundation Chairman Jong-Ki Chun pose after donation ceremony on Oct.28 at the campus. >