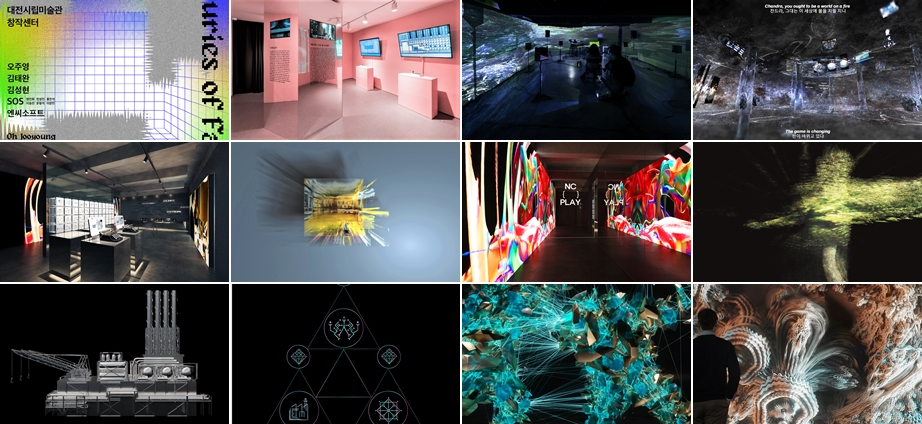 < Images of participating artworks at the Game&Art:Auguries of Fantasy. >
'Game & Art: Auguries of Fantasy,' a special exhibition combining art and technology will feature the new future of metaverse fantasy. The show will be hosted at the Daejeon Creative Center at the Daejeon Museum of Art through September 5.
This show exhibits a combination of science and technology with culture and arts, and introduces young artists whose creativity will lead to new opportunities in games and art. The Graduate School of Culture Technology was designated as a leading culture content academy in 2020 by the Ministry of Culture, Sports & Tourism and the Korea Creative Content Agency for fostering the R&D workforce in creative culture technology.
NCsoft sponsored the show and also participated as an artist. It combined its game-composing elements and technologies with other genres, including data for game construction, scenarios for forming a worldview, and game art and sound. All of the contents can be experienced online in a virtual space as well as offline, and can be easily accessed through personal devices.
Characterized by the themes 'timeless' and 'spaceless' which connect the past, present, and future, and space created in the digital world. The exhibition gives audience members an opportunity to experience freedom beyond the constraints of time and space under the theme of a fantasy reality created by games and art.
"Computer games, which began in the 1980s, have become cultural content that spans generations, and games are now the fusion field for leading-edge technologies including computer graphics, sound, human-computer interactions, big data, and AI. They are also the best platform for artistic creativity by adding human imagination to technology," said Professor Joo-Han Nam from the Graduate School of Culture Technology, who led the project.
"Our artists wanted to convey various messages to our society through works that connect the past, present, and future through games."
Ju-young Oh's "Unexpected Scenery V2" and "Hope for Rats V2" display game-type media work that raises issues surrounding technology, such as the lack of understanding behind various scientific achievements, the history of accidental achievements, and the side effects of new conveniences.
Tae-Wan Kim, in his work themed 'healing' combined the real-time movement of particles which follows the movements of people recorded as digital data. Metadata is collected by sensors in the exhibition space, and floating particle forms are evolved into abstract graphic designs according to audio-visual responses.
Meanwhile, 'SOS' is a collaboration work from six KAIST researchers (In-Hwa Yeom, Seung-Eon Lee, Seong-Jin Jeon, Jin-Seok Hong, Hyung-Seok Yoon, and Sang-Min Lee). SOS is based on diverse perspectives embracing phenomena surrounding contemporary natural resources. Audience members follow a gamified path between the various media-elements composing the art's environment. Through this process, the audience can experience various emotions such as curiosity, suspicion, and recovery.
'Diversity' by Sung-Hyun Kim uses devices that recognize the movements of hands and fingers to provide experiences exploring the latent space of game play images learned by deep neural networks. Image volumes generated by neural networks are visualized through physics-based, three-dimensional, volume-rendering algorithms, and a series of processes were implemented based on the self-written code.