- Chinese KAISTians Donate Supplies to Fight COVID-19 in Daegu -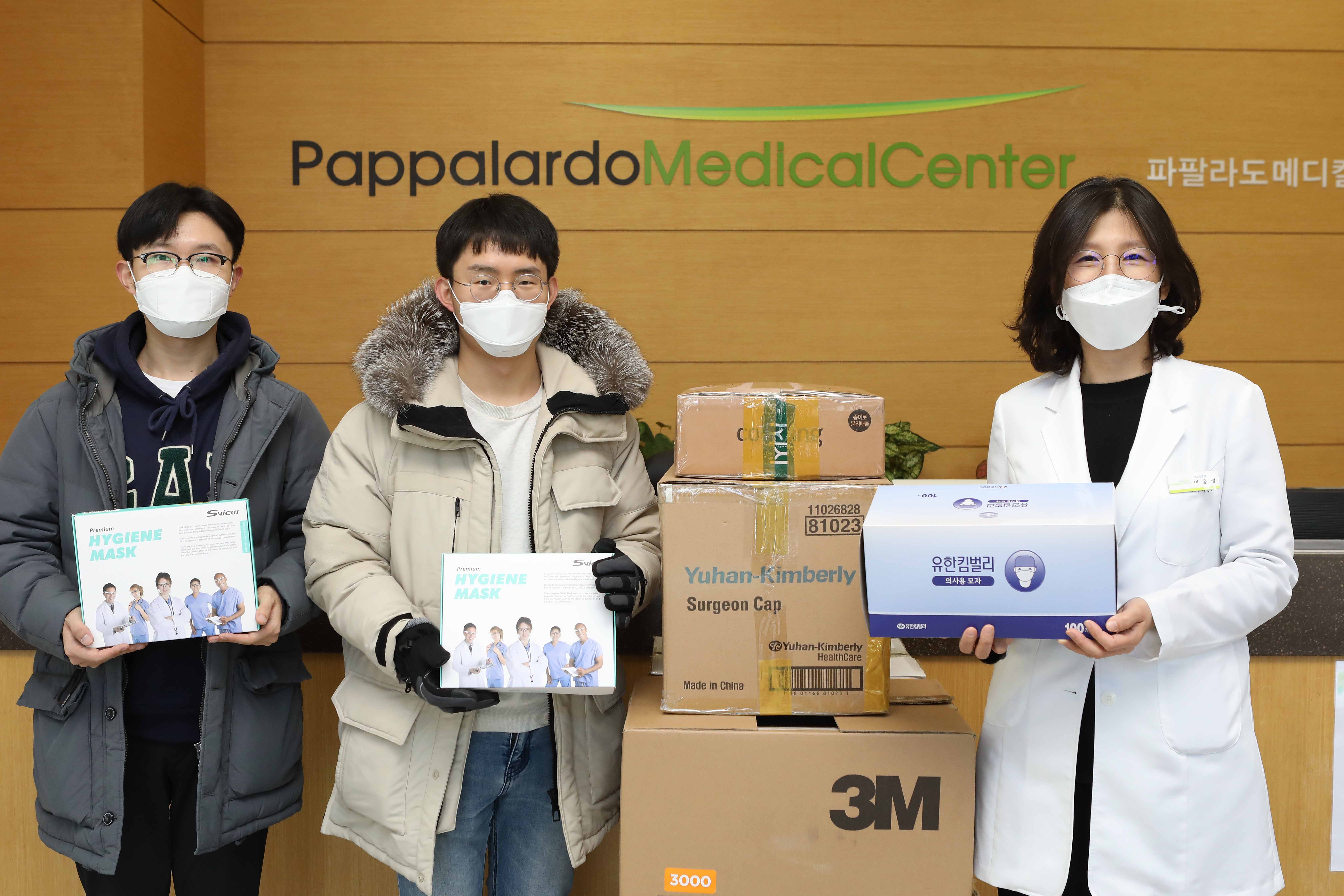 < Yi Che, PhD Candidate in the School of Electrical Engineering (left), Master's Student Guoyuan An (center), and Executive Director Yun-Jung Lee (right) >
The Chinese community at KAIST donated 2.49 million won worth of personal protective equipment on March 4 to support on-site medical personnel in the city of Daegu. South Korea has been witnessing a significant surge in novel COVID-19 transmissions, and Daegu and nearby North Gyeongsang Province are the most affected regions.
As the COVID-19 situation grows more serious globally day by day, a Chinese master's student from the KAIST Department of Civil and Environmental Engineering, Yuewen Jia, suggested a fundraising campaign on the KAIST Chinese Community's WeChat messenger chat room, and her idea was enthusiastically supported by many peer-members. The KAIST Chinese Community is comprised of 105 undergraduates, graduates, post-doctoral fellows, researchers, and professors.
With Jia's post-doc colleague Pei Li volunteering to manage the fundraising process, a total of 2.49 million won was collected in 12 days between January 27 and February 7.
The donors, including Qin Xu, a PhD candidate in the School of Electrical Engineering, reportedly asked for their donations to be used to support on-site medical personnel affected by the outbreak. They believed that medical supplies are the most essential in times like these. The group purchased personal protective equipment online and waited for more than 20 days until the items were finally delivered to them. The goods include 1,280 protective caps, 57 protective suits, 15 protective glasses, and two protective face shields.
Given the surging spread of the COVID-19 disease in Korea, where the confirmed cases have increased multi-fold since mid-February, the KAIST Chinese Community decided that their items should be used immediately in Korea, instead of being sent back to their home country as they had planned.
Guoyuan An, a student representative of the community studying for his master's degree in the School of Computing, said, "Earlier, some members of the KAIST Chinese Community who had visited China were self-quarantined for two weeks in a special facility designated by KAIST as a precautionary measure. Thanks to the outstanding care we received from offices at KAIST including the COVID-19 Task Force Team, the International Office, the Student Offices, and the Clinic, those who were quarantined could return to campus safe and healthy."
He continued, "KAIST and the Koreans as a whole spared no effort in helping China and Chinese people living in Korea fight the COVID-19 outbreak in its early days, and all of the members of the KAIST Chinese Community felt deeply grateful for all the attention and aid. This has been a definitive reason for us to change the donate recipient from China to Korea."
"As an old Chinese saying goes, 'A drop of water shall be returned with a rushing river.' This proverb means that even if you receive a little help from others, you should return the favor with all you can when others are in need. We decided to make a donation ourselves in hopes that our small contribution could help on-site medical personnel work for the health and wellbeing of Koreans who are affected in that area." he explained.
The donated items were delivered to the Division of Disaster Preparedness and Emergency Management at the Daegu Metropolitan Government Office, with help from the on-campus medical center KAIST Clinic Pappalardo Center and the KAIST International Scholar and Student Services (ISSS) Team.
Dr. Yun-Jung Lee, the executive director of the KAIST Clinic Pappalardo Center, expressed "a huge thank you to the KAIST Chinese Community for pitching in to help battle this national and global crisis."
She added, "Their donations have been passed to those in desperate need, and their warm-hearted act of kindness will go a long way."
< The KAIST Chinese Community >
(END)