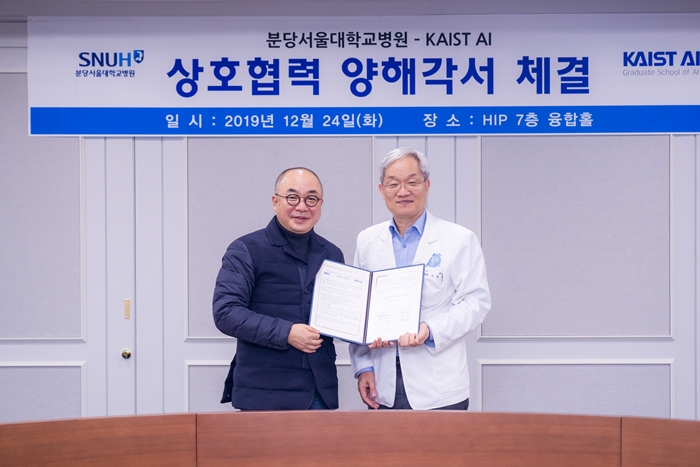 < Dean Song Chong (left) and Director Chang Wan Oh (right)
at the KAIST GSAI - SNUBH MOU Signing Ceremony >
The Graduate School of AI (GSAI) at KAIST and the Seoul National University Bundang Hospital (SNUBH) signed a memorandum of understanding (MOU) to cooperate in AI education and research in the field of healthcare last month. The two institutions have agreed to collaborate on research and technology development through the implementation of academic and personnel exchange programs.
The GSAI, opened in August 2019 as Korea's first AI graduate school, has been in the forefront of nurturing top-tier AI specialists in the era of Fourth Industrial Revolution. The school employs a two-track strategy that not only provides students with core AI-related courses on machine learning, data mining, computer vision, and natural language processing, but also a multidisciplinary curriculum incorporating the five key fields of healthcare, autonomous vehicles, manufacturing, security, and emerging technologies. Its faculty members are "the cream of the crop" in their early 40s, achieving world-class performance in their respective fields.
SNUBH opened the Healthcare Innovation Park in 2016, the first hospital-led convergence research complex among Korean medical institutions. It is leading future medical research in five specialized areas: medical devices, healthcare ICT, human genetics, nano-machines, and regenerative medicine.
The Dean of the GSAI, Song Chong, said, "We have set the stage for a cooperative platform for continuous and efficient joint education and research by the two institutions." He expressed his excitement, saying, "Through this platform and our expertise in AI engineering and medicine, we will lead future AI-based medical technology."
The Director of the SNUBH Research Division, Chang Wan Oh, stressed that "the mutual cooperation between the two institutions will become a crucial turning point in AI education and research, which is at the core of future healthcare." He added, "Through a high level of cooperation, we will have the ability to bring about global competitiveness and innovation."
(END)