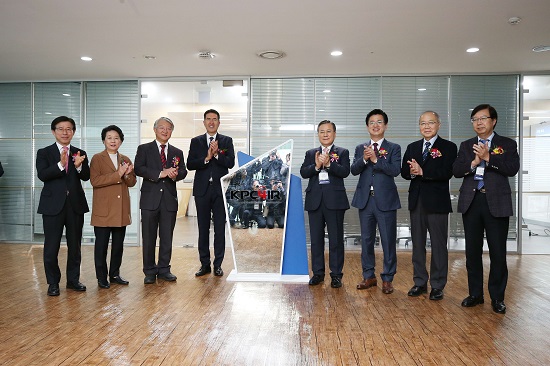 < President Shin (fourth from the right) and Managing Director of the WEF Center for the Fourth Industrial Revolution Murat Sonmez (fourth from left) attend the opening ceremony. >
The World Economic Forum's Center for the Fourth Industrial Revolution opened its Korean affiliate center at KAIST on December 10. The Korea Policy Center for the 4th Industrial Revolution (KPC4IR) will develop policy norms and frameworks for accelerating the benefits of emerging technologies.
Many dignitaries including KAIST President Sung-Chul Shin, National Assemblyman Sang-Min Lee, Daejeon City Mayor Her Tae-Jeong, and Managing Director of the WEF Center for the Fourth Industrial Revolution Murat Sonmez attended the opening ceremony.
The center will play a vital role in helping to shape the development of national Fourth Industrial Revolution strategies and public-private initiatives. The Center will actively engage with the government on policy design and piloting activities.
The Center is the result of KAIST's close partnership with the WEF and its Center for the Fourth Industrial Revolution in San Francisco. KAIST signed an MOU with the WEF in 2017 for this collaboration. Dr. Klaus Schwab expressed his high hopes many times regarding Korea's potential in responding to the Fourth Industrial Revolution. In addition, he said that KAIST and the City of Daejeon would play a significant role in helping the Fourth Industrial Revolution move forward.
During a meeting with President Moon Jae-In last June, Dr. Schwab expressed his strong desire to collaborate with Korea, and the Korean government designated KAIST as an affiliate center of the WEF.
The KPC4IR had already begun conducting policy research in the areas of block chain and precision medicine even before making a partnership with the WEF. The director of the Center, Distinguished Professor Sang Yup Lee, said, "We have focused on the development of technology but rarely talk about governance. Technology should come with policy. We will conduct policy development on how to ensure inclusive growth capitalizing on emerging technologies. We will also make policy guidelines for technological applications after considering all the ethical perspectives.
President Shin also said in his opening remarks, "Korea has been a fast follower over the past decades in making economic development and innovations. I believe that the Fourth Industrial Revolution gives us the best opportunity to play the role of 'first mover.' I look forward to the KPC4IR serving as a 'Think and Do' tank, not limiting itself to the role of 'think tank.' We will continue to work closely with the WEF in the fields of AI, blockchain, and precision medicine.