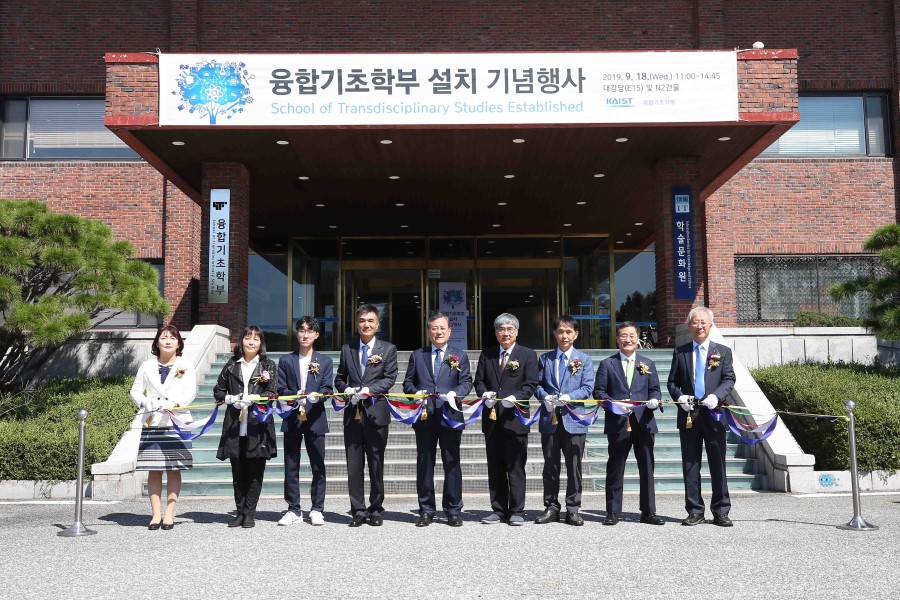 KAIST opened the School of Transdisciplinary Studies to foster 'convergent talents' who can create new knowledge through a transdisciplinary approach. The new department will officially start classes in the spring semester of 2020 while recruiting its first cohorts during the fall semester among current freshmen.
President Sung-Chul Shin, the Head of the School of Transdisciplinary Studies Jong Duk Kim, and other prominent members of KAIST's administration celebrated the opening of the new department during a ceremony on September 18. Students who will declare their major this semester and many parents showed strong interests in this new department while attending the ceremony. They all toured the new facilities together and attended the special lecture sessions.
The School of Transdisciplinary Studies is designed to empower students to create new solutions to emerging complex technologies and rapidly evolving global issues. This is one of the education innovation initiatives under Vision 2031, the plan President Sung-Chul Shin has launched to nurture creative young convergent leaders, and the first single transdisciplinary department that will be introduced in a Korean university.
The new faculty aims to educate students who will have a deeper understanding of the humanities, scientific creativity, the ability to conceive new ideas, complex problem-solving skills, and global leadership. The curriculum boasts a strong foundation of basic science and humanities over six required courses in physics, chemistry, molecular biology, applied mathematics modeling, data structure, and economics. Then, students will explore their academic depth by choosing one of eight emerging fields. The eight concentration majors encompass data and AI, smart cities and media, healthcare, culture and media, management and startups, materials and matter, energy and environment, and machinery and precision. In their third and fourth years, students can customize their study course based on their career path and academic interest after consultation with a faculty mentor and an internship. Upon graduation, they will earn a bachelor's degree in convergent science or a bachelor of convergent engineering degree. They may also elect to receive a bachelor's degree in science or engineering.
"This faculty offers deep knowledge in basic science and humanities to help students explore their specialties more creatively. Specialties built upon strong theory and creative applicability will be the key to solving the global challenges in an era of volatility, uncertainty, complexity, and ambiguity," said Professor Kim, the head of the school, at the ceremony.
President Shin also stressed the importance of convergence education during his special lecture, saying, "We will continue to strive to foster new talents who will create new convergent knowledge in emerging technologies such as IoT, big data, 5G, and AI. By fostering such young convergent talents, we will take the lead in national development and work for the prosperity of humanity."
(END)