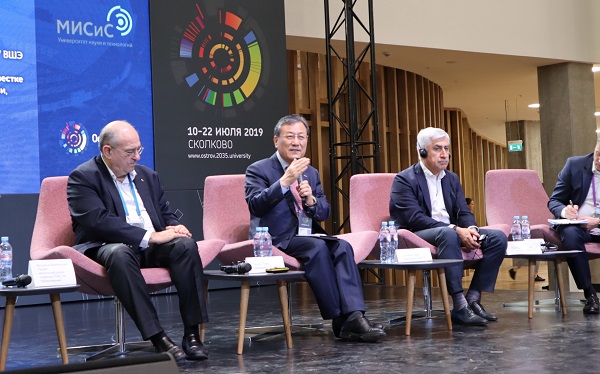 < President Shin engages in discussion during the Island 10-22 Conference held at Skoltech in Moscow. >

President Sung-Chul Shin shared the recipe for success for rapid national development through university education during the Island 10-22 Conference held at the Skolov Institute of Science and Technology in Moscow on July 16.

President Shin stressed how urgent it is for higher education to rapidly embrace the new global economic environment brought about by the Fourth Industrial Revolution in his keynote address entitled 'Roles and Responsibilities of Universities for Rapid National Development'.

The Island 10-22 Conference is a summit co-organized by the National University of Science and Technology MISIS and University of the National Technological Initiative 2035 and supported by the Ministry of Science and Higher Education of the Russian Federation. More than 30 world-renowned experts, presidents of leading technological universities including President Peretz Lavie from the Israel Institute of Technology Technion, President Scott Pulsipher from Western Governors University and specialists in big data participated in the conference as speakers and discussed a diverse spectrum of ideas for making innovations and digital transformations in universities. More than 1,600 participants joined the conference.

During his keynote speech, President Shin explained how Korea has achieved such rapid economic growth over the past half century. He cited the Korean government's vision and innovation policies as factors leading to Korea's phenomenal success. KAIST, one of the results of the Korean government's innovation policy, led the nation to advanced technological breakthroughs in industries such as semiconductors. Such visionary policies and investments in science, technology, and education eventually made the Korea of today possible.

President Shin said that KAIST distinguished itself through its new vision of C3 that fosters intellectual creativity, caring for others, and a challenging mind . Under Vision 2031, a blueprint for becoming a leading global university, President Shin said the KAIST continues to strive for innovations in convergent education,research and entreprenurship.