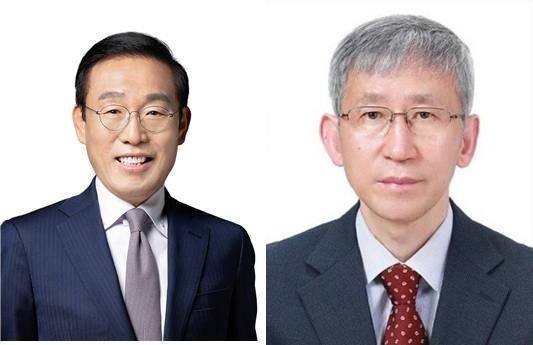 Vice Chairman Ki-Nam Kim (Left) and Distinguished Professor Sukbok Chang (Right)
<ⓒ Photo by MSIT and KOFST>

Distinguished KAIST Professor Sukbok Chang from the Department of Chemistry and Vice Chairman Ki-Nam Kim of Samsung Electronics were selected as the winners of the "2019 Korea Best Scientist and Technologist Awards" by the Ministry of Science and ICT (MSIT) and the Korean Federation of Science and Technology Societies (KOFST). The awards, which were first handed out in 2003, are the highest honor bestowed to the two most outstanding scientists in Korea every year, and this year's awardees are of greater significance as they are both KAIST alumni.
Professor Chang was recognized for his pioneering achievements and lifetime contributions to the development of carbon-hydrogen activation strategies, especially for carbon-carbon, carbon-nitrogen, and carbon-oxygen formations. His research group has also been actively involved in the development of highly selective catalytic systems allowing the controlled defunctionalization of bio-derived platform substrates under mild conditions, and opening a new avenue for the utilization of biomass-derived platform chemicals. The results of his study have been introduced worldwide through many prestigious journals including Science, Nature Chemistry, and Nature Catalysis, making him one of the world's top 1% researchers by the number of references made to his papers by his peers over four consecutive years from 2015 to 2018.
Vice Chairman Kim, who received his M.E. degree from KAIST's School of Electrical Engineering in 1983, has been credited with playing a leading role in the development of system semiconductors.
The awards were conferred on July 4 at the opening ceremony of the 2019 Korea Science and Technology Annual Meeting.
(END)