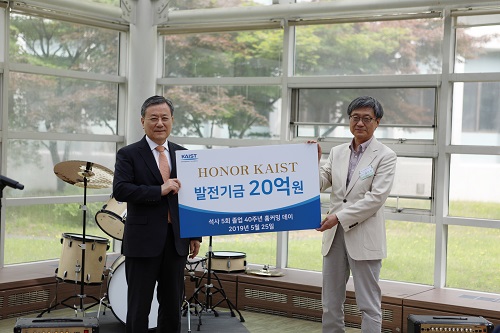 The class of 1979 held a reunion on May 25 at the College of Business at the KAIST Seoul campus, which was the main campus when they were students 40 years ago. These leaders, who now serve in diverse sectors of academia, research, business, and industry both in Korea and abroad, held a homecoming event in celebration of the 40th anniversary of their graduation.
At the event, Chairman Chong-Don Kim of Miwon Commercial, who was representing their class, donated 2 billion KRW toward the KAIST development fund.
Chairman Kim reminisced saying, "Today's event takes my friends and I back in time and reminds us of our old school days here at KAIST. It means a lot to us to re-visit the campus with grateful hearts for our alma mater." He continued, "We raised this fund in the spirit of 'Honor KAIST', hoping for KAIST to continue to grow towards its vision of becoming a world-leading institution. Our class always has and forever will dearly support KAIST with all our hearts."
'Honor KAIST' is an alumni-led spontaneous donation campaign first initiated in 2015 by the class of '75, the first group of masters students who graduated from KAIST, with the aim of raising 1 trillion KRW fund for the development of KAIST.
President Sung-Chul Shin responded, "The deep contributions and consistent engagement being made by our alumni groups for KAIST's institutional growth is truly beneficial, far beyond what meets the eye. The entire school would like to express our sincere gratitude to the class of '79 for your generous donation which will serve as a run-up for the university's many future initiatives."

More than 100 graduates and emeritus professors including Professor Jae-Kyoon Kim and Professor Choong-Ki Kim from the School of Electrical Engineering, as well as Chairman of the KAIST Alumni Association Dr. Ki-Chul Cha, were able to attend.