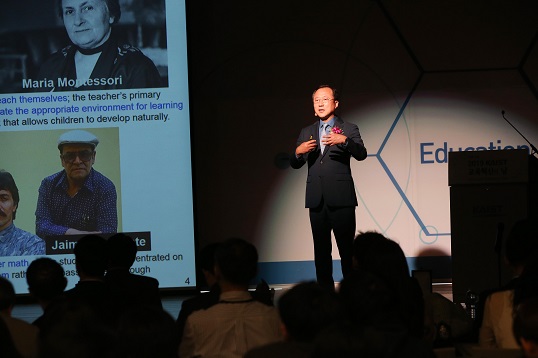 < Professor Lee makes an presentation after accepting the Linkgenesis Best Teacher Award >
Professors Tae-Eog Lee and Il-Chul Moon from the Department of Industrial & Systems Engineering received the Linkgenesis Best Teacher Award and the Soo-Young Lee Teaching Innovation Award on May 10. They were each awarded with 10 million KRW in prize money during the Education Innovation Day ceremony held at the Chung Kun-mo conference hall.

The award was endowed by KAIST Alumni Scholarship Chairman Hyung-Kyu Lim and KAIST Foundation Chairman Soo-Young Lee to support the innovation initiative and acknowledge faculty members who made significant contributions to educational innovation and benefited the general public though their innovations.

"KAIST's vision for excellence and commitment to innovation is a game changer. Educational innovation is one of five pillars of Vision 2031, and it is our priority to foster critical and creative thinking students," said President Sung-Chul Shin at the ceremony. All the awardees made presentation on their innovative projects and shared their ideas on better pedagogical methodology for next generation.

Professor Lee, dean of the KAIST Academy and the head of the Center for Excellence in Learning & Teaching was recognized for his contribution to enhancing educational quality through innovative learning and teaching methodology development. He has set up an Education 3.0 Initiative, an online education platform for flipped learning at KAIST.

Professor Moon also upgraded the online education platform to the 4.0 version and extended KAIST's massive online courses through KOOC framework. This open platform offers more than 62 courses, with more than 170 thousand users registered since 2014.

Professor Song-Hong Park from the Department of Bio and Brain Engineering and Professor Jae-Woo Lee from the Department of Chemical and Biomolecular Engineering also won the Excellence Award.