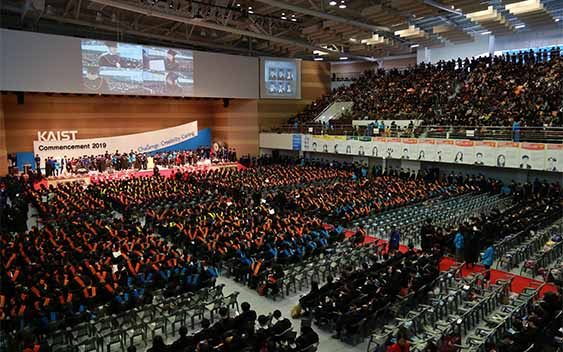 (KAIST 2019 Commencement Ceremony)
This year, KAIST awarded a total of 2,705 degrees: 654 PhD degrees, 1,255 master's degrees, and 796 bachelor's degrees. Including this year's numbers, KAIST has conferred a total of 63,830 degrees since its foundation in 1971.
Parents, family, and friends came to campus to congratulate the graduates with big smiles and hugs. Faculty and staff members also attended the ceremony to celebrate their graduation. This year, distinguished guests including National Assembly Member Kyung-Jin Kim and Vice Minister for Science, Technology and Innovation Dae-sik came to celebrate the day with the KAIST community.
During the commencement, KAIST also announced the recipients of its undergraduate academic awards. The Minister of Science and ICT Award was won by Do-Yoon Kim from the Department of Aerospace Engineering, the KAIST Board of Trustee Chairperson Award went to Se-rin Lee from the Department of Materials Science and Engineering, the KAIST Presidential Award was won by Hee-Ju Kim from the Department of Physics, the KAIST Alumni Association President Award went to Hyeon-Seong Park from the School of Electrical Engineering, and finally the KAIST Development Foundation Chairperson Award was won by Gyeong-Hoon Lee from the Department of Mathematical Sciences.
This year's valedictorian Eun-Seok Jeong from the School of Computing said, "I believe that we are able to stand here today because we challenged ourselves to confront our shortcomings and our uncertainty. If we continue to develop, we will become a better person than we were yesterday."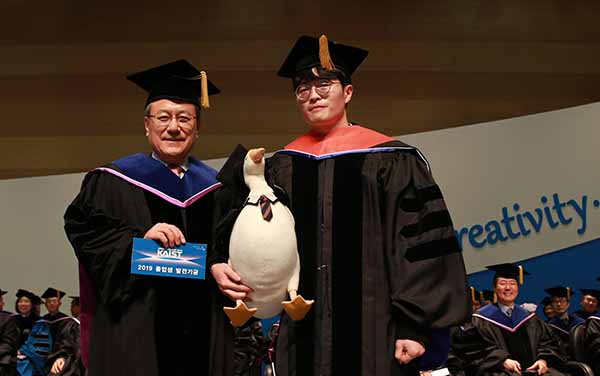 (KAIST President Sung-Chul Shin and Woo-Seok Jeong, '19 PhD in Aerospace Engineering)
As a KAIST alumnus and fellow scientist, President Sung-Chul Shin offered his congratulations and emphasized that graduates should continue to pursue the C³ spirit. "In this age of great transformation, embrace challenges and exercise creativity as you have learnt through your education and research at KAIST. And keep in mind the importance of caring for others. Please remember that challenge and creativity will have more meaning if rendered with a caring spirit," he said.