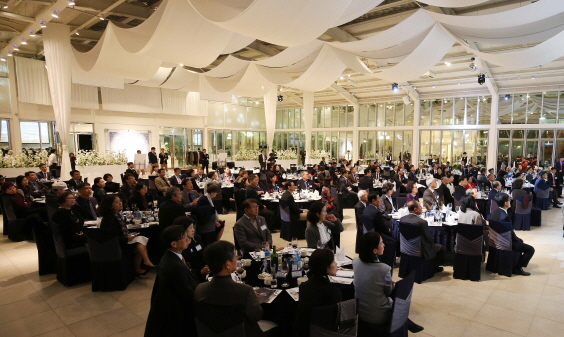 KAIST hosted its first Fundraising Gala on October 26, 2018. It was organized to demonstrate deep gratitude to those who have made contributions to KAIST, making it possible to progress every year.
The KAIST Development Foundation (KDF) endeavored to make a meaningful and inclusive event by collecting archives that show the history of donations while sending invitatio
ns to all the members of KAIST, including donors and potential donors as well as professors and student representatives.
Approximately 200 distinguished guests attended the gala, including major donors, Chairperson of KDF Soo Young Lee and Chairman Beang Ho Kim, Former Minister of Science Dr. Geun Mo Jung, Former Minister of Science and Technology Woo Sik Kim, and KAIST alumni including the first Korean astronaut So-Yeon Yi.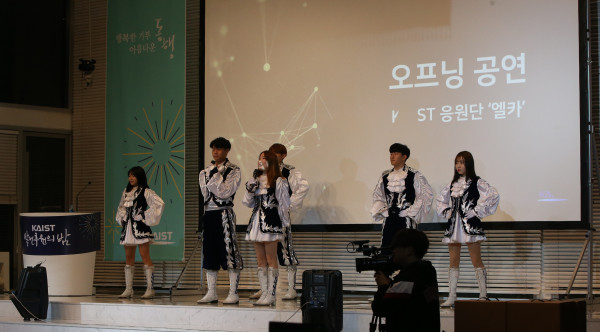 (Student cheer leading club, ELKA)
At the gala, KAIST shared its 47 years of funding and an expenditure summary with major performances achieved from the year it was founded. According to the summary, KAIST has received more than 323.1 billion won since 1971. The total number of donors was 12,906 while the number of contribution reached 77,710.
Among the total funding (323.1 billion won), corporate gifts made up 43.1% of the total and individual gifts stood at 39.1%, showing that KAIST has received and is receiving support evenly from companies and individuals.
Taking a close look at the major donors, there is an interesting fact about KAIST's fundraising culture. There has been continuous support from individuals who did not have any personal or academic ties with KAIST before donating. However, they have made large gifts to KAIST so that the best students in the fields of science and technology can be fostered for the sake of national development. The major donors included Young Han Kim (1999), Moon Soul Chung (2001), Byiung Joon Park (2007), Keun Chul Ryu (2008), Beong Ho Kim (2009), Chun Shik Cho and E won Oh (2010), Soo Young Lee (2012), Tae-won Chey (2014), Jeong Ja Cho (2015), and Chang Kun Sohn (2017).
Especially, M. S. Chung, B. H. Kim, C. S. Cho and S. Y. Lee made additional mega-gifts to KAIST, showing continuous support for KAIST's development.
Nevertheless, the KAIST fundraising culture could not be created with major donors only. Among the total number of donors (12,906), alumni showed the strong engagement standing at 40.4% while parents and students were at 26.1% and 12.7% respectively. The contribution numbers follow the order of alumni (34.8%), parents (20.3%), staff (20%), professors (13.3%), and students (5.7%). These statistics imply that individual's constant donations play a significant part in the fundraising culture of KAIST.
Additionally, engagement continues to rise every year, and it reached 12,039 gifts in 2017, which increased 5.7 times over ten years.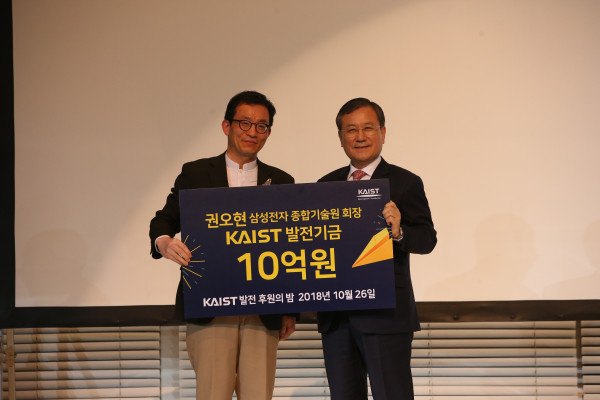 (from left: Executive Director of KDF Young-gul Kim KAIST President Sung-Chul Shin)
These valuable gifts are the vital fuel for KAIST's progress. As of 2018, KAIST has spent 205.8 billion won: 81.9 billion won for construction and facilities operation, 79.7 billion won for academics and research, 39 billion won for academic management, and 5.2 billion won for scholarships.
The construction and facilities operation fund aided the evolution of physical infrastructure. KAIST endowed the ChungMoonSoul Building for promoting convergence between information and biotechnology, the Yang Bun Soon Building for bio and brain engineering studies, and the Chunghi & Byiung Jun Park KI Building for multi and interdisciplinary research. Their generous gifts built the foundation for KAIST taking off towards becoming a global leading university.
Meanwhile, the academic and research funds provided opportunities to professors and students to carry out creative research and academic missions. The academic management fund helped open new departments (i.e. The Cho Chun Shik Graduate School of Green Transportation and the Moon Soul Graduate School of Future Strategy) and their programs, for which their names came from the major donors.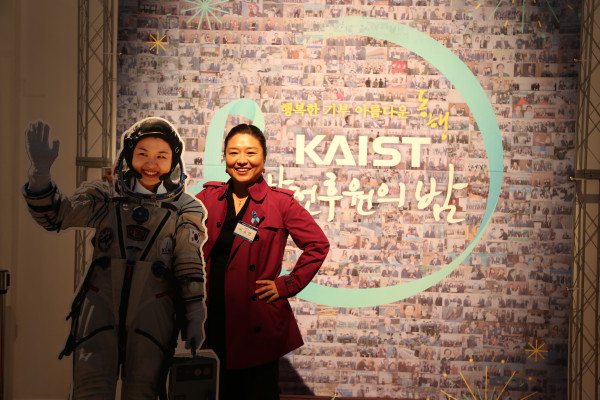 (The first Korean astronaut So-Yeon Yi)
At the gala, special events were held for two exclusive moments that contributed to promoting and making a better image for KAIST to the public. One was the 10th anniversary of the space exploration of the first Korean astronaut Dr. Yi. The other was the 20th anniversary of the TV drama series, called 'KAIST' which was aired from 1999 to 2000. The writer and main casting crew members joined the event. They said that it was their first time to gather in one place after the show last aired and this event would be memorable for them as well.
President Sung-Chul Shin said, "These gifts play the role of seed money that helps KAIST obtain competence in a global scenario. I hope people have more interest in supporting KAIST through this event."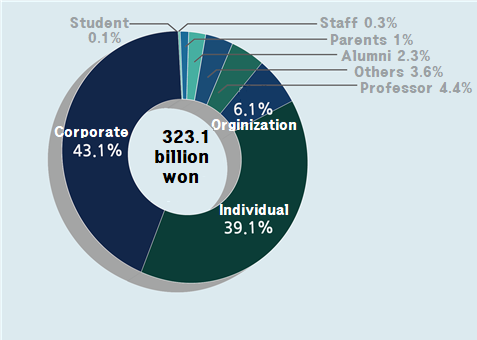 3

Expenditure
Number of Contribution