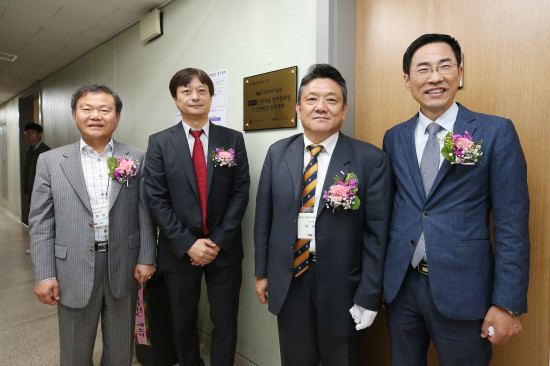 (from left: Dean of College of Engineering Jong-Hwan Kim, Director of AI│QC ITRC June-Koo Rhee, Vice President for R&DB Heekyung Park and Director General for Industrial Policy Hong Taek Yong)
Artificial Intelligence|The Quantum Computing Information Technology Research Center (AI|QC ITRC) opened at KAIST on October 2.
AI|QC ITRC, established with government funding, is the first institute specializing in quantum computing. Three universities (Seoul National University, Korea University, and Kyung Hee University), and four corporations, KT, Homomicus, Actusnetworks, and Mirae Tech are jointly participating in the center. Over four years, the institute will receive 3.2 billion KRW of research funds.
Last April, KAIST selected quantum technology as one of its flagship research areas. AI|QC ITRC will dedicate itself to developing quantum computing technology that provides the computability required for human-level artificial intelligence. It will also foster leaders in related industries by introducing industry-academic educational programs in graduate schools.
QC is receiving a great deal of attention for transcending current digital computers in terms of computability. World-class IT companies like IBM, Google, and Intel and ventures including D-Wave, Rigetti, and IonQ are currently leading the industry and investing heavily in securing source technologies.
Starting from the establishment of the ITRC, KAIST will continue to plan strategies to foster the field of QC. KAIST will carry out two-track strategies; one is to secure source technology of first-generation QC technology, and the other is to focus on basic research that can preoccupy next-generation QC technology.
Professor June-Koo Rhee, the director of AI│QC ITRC said, "I believe that QC will be the imperative technology that enables the realization of the Fourth Industrial Revolution. AIQC ITRC will foster experts required for domestic academia and industries and build a foundation to disseminate the technology to industries."
Vice President for R&DB Heekyung Park, Director General for Industrial Policy Hong Taek Yong from the Ministry of Science and ICT, Seung Pyo Hong from the Institute for Information & communications Technology Promotion, Head of Technology Strategy Jinhyon Youn from KT, and participating companies attended and celebrated the opening of the AI│QC ITRC.