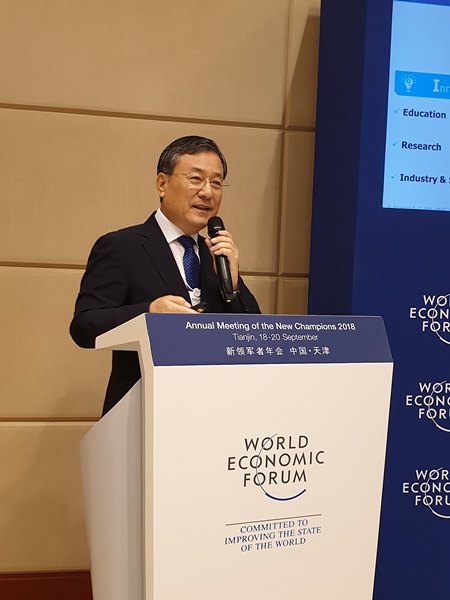 (President Shin makes a keynote speech at the 2018 Summer Davos Forum in China on Sept.20.)
KAIST co-hosted the Asia Session with the World Economic Forum during the 2018 Summer Davos Forum in Tianjin, China from September 18 through 20. The session highlighted regional collaboration in Asia to promote inclusive growth in the Fourth Industrial Revolution.

KAIST is working closely with the WEF to take the lead in the Fourth Industrial Revolution. Last July, KAIST established the Fourth Industrial Revolution Information Center (FIRIC) at the KAIST Institute and signed an MOU with the Center for the Fourth Industrial Revolution (C4IR) at the WEF in October. The session is a follow-up event KAIST and the C4IR agreed to last year during the Roundtable Session held in Seoul.

Many experts in new emerging industries as well as many project directors, including Director Murat Sonmez of the C4IR, attended the session KAIST hosted. Director Chizuru Suga at the C4IR in Japan, Director Danil Kerimi in China, and Director Shailesh Sharda in India also attended the session and discussed ways to expand collaboration and networks among the countries.

In his keynote speech at the session on September 20, President Sung-Chul Shin presented how the Korean government is trying to drive the economy by strategically investing in focused industries in the new global industrial environment. President Shin introduced the government's strategic roadmap to build the competitiveness of emerging technologies such as AI, blockchain, and precision medicine.

He also stressed that the three components of innovation, collaboration, and speed should be prioritized in all sectors for the successful realization of the Fourth Industrial Revolution. For instance, innovation in education, research, and technology commercialization, expansive domestic and international collaboration beyond the private and public sectors, speedy deregulation, and efficient governance will all be critical.

He also said that KAIST will launch new pilot collaboration projects along with the WEF soon. "We paved the way for leading the network with major countries including Japan and India for advancing the Fourth Industrial Revolution through this session," President Shin said.