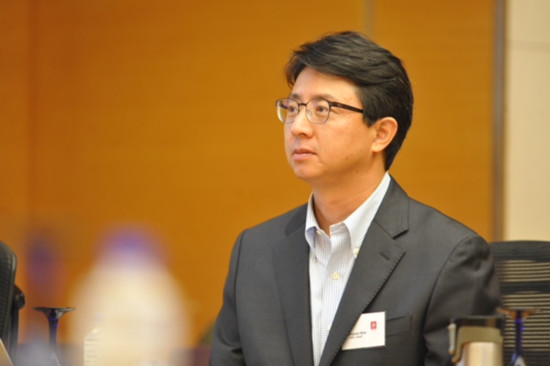 (Professor Wonjoon Kim from the School of Business and Technology Management)
Professors from KAIST and major international universities launched a mega-scale research center focusing on the Fourth Industrial Revolution, named the Center for Industrial Future Strategy (CIFS).
This center is funded by the National Research Foundation Korea and will receive 2.25 billion KRW over four years.
Directed by Professor Wonjoon Kim from the School of Business and Technology Management, the center is comprised of ten top-tier researchers and four research associates, including Professor Hawoon Jeong (KAIST), Professor Scott Stern (MIT), Professor Aaron Chatterji (Duke University), Dr. Yong Suk Lee (Stanford University) and Professor Hyejin Youn (Northwestern University).
The center will conduct research on technical, social, and economic changes derived by a new paradigm of technological innovation.
Moreover, they will study policies and strategies in relation to innovation in the corporate and government sectors to achieve economic growth in a sustainable manner. The center will also propose policies and strategies in a variety of economic and industrial settings to establish a sustainable and global innovation ecosystem.
To carry out these studies successfully, CIFS will further expand the AIEA-NBER Conference with the Asia Innovation and Entrepreneurship Association (AIEA) and the National Bureau of Economic Research (NBER) in which numerous Nobel Laureates in Economics are affiliated. They will also comprise thematic research teams with co-founding universities to build stronger cooperation with one another.
Besides the academic cooperation, the center will also build partnerships with international organizations, including the Asian Development Bank and the Inter-American Development Bank to carry out their missions at multilateral levels.
Their research topics include changes to value chains in a new paradigm of technological innovation, labor market changes in the Fourth Industrial Revolution, sharing economies and social interests, big data, artificial intelligence & privacy policy, and innovation & ethical and institutional countermeasures to AI technology.
Professor Kim said, "The new paradigm of technological innovation is evolving social, economic, and industrial structures, such as R&D, industry, technology, labor, finance, and institutions. The Center will contribute to proposing policies and strategies so that Korea, as well as the international community, can take appropriate measures to these big changes."