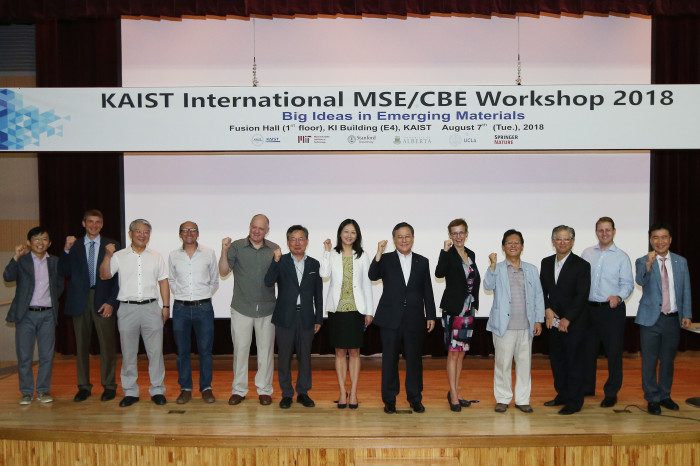 (KAIST President Sung-Chul Shin with scholars participated in the workshop)
The MSE/CBE International Workshop brought together editors from key academic journals in multidisciplinary materials science and scholars from leading universities at KAIST on Aug. 7.
The workshop hosted ten distinguished speakers in the fields of nanostructures for next-generation emerging applications, chemical and bio-engineering, and materials innovation for functional applications. They explored opportunities and challenges for reinventing novel materials that will solve complex problems.
(From left: Professor Buriak, Professor Swager and Professor Il-Doo Kim)
Speakers included: Chief Editor of Nature Materials Vincent Dusastre; Editor-in- Chief of ACS NANO and professor at UCLA Paul S. Weiss; Jillian M. Buriak, Editor-in-Chief of Chemistry of Materials; Associate Editor of Macromolecules and professor at MIT Timothy M. Swager; Coordinating Editor of Acta Materialia and Head of the Department of Materials Science and Engineering at MIT Christopher A. Schuh; Editor-in-Chief of Biotechnology Journal and Metabolic Engineering and Distinguished Professor at KAIST Sang-Yup Lee; Associate Editor of Energy Storage Materials and professor at KAIST Sang Ouk Kim; Professor Jeffrey C. Grossman at MIT; Professor Zhenan Bao at Stanford University; and Professor Hyuck Mo Lee, head of the Department of Materials Science and Engineering at KAIST.
Interdisciplinary materials research holds the key to building technological competitiveness in many industrial sectors extending from energy, environment, and health care to medicine and beyond. It has also been the bedrock of KAIST's scholarship and research innovation. More than 200 faculty members in the field of materials science produce about 800 SCI papers every year. The two departments of materials science and chemical biomolecular engineering are leading KAIST's global reputation, as they were both ranked 13th and 14th in the QS World University Ranking by Subject this year.
(Professor Il-Doo Kim fromt
he Department of Materials Science Engineering)
Professor Il-Doo Kim from the Department of Materials Science Engineering has been the chair of this workshop from 2016. In hosting the second one this year, he said that he hopes this year's workshop will inspire many materials scientists to have big ideas and work to make those big ideas get noticed in order to have a real impact.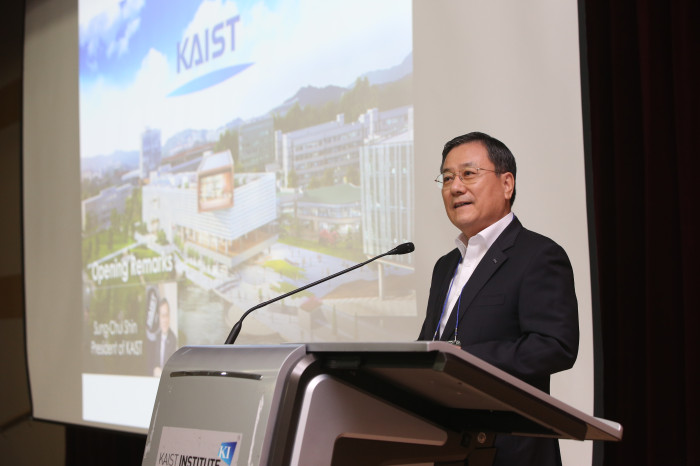 (KAIST President Sung-Chul Shin)
President Sung-Chul Shin, who is a physicist specializing in materials physics, expressed his keen interest in the workshop, saying innovative materials made of unthinkable and noble combinations will be the key factor in determining the competitiveness of new technology and new industries. He lauded international collaborations for making new materials and the scholarly passion to evaluate the materials' characteristics that made this significant progress possible.
Dr. Vincent Dusastre, chief editor of Nature Materials, presented recent trends in materials for energy. He described how the rational design and improvement of materials' properties can lead to energy alternatives which will compete with existing technologies. He pointed out that given the dramatic fundamental and practical breakthroughs that are taking place in the realization of solar cells with high energy-conversion efficiency, the improvement of batteries for electric vehicles and the grid is also a major challenge. He stressed, "Key advances in sustainable approaches beyond Li-ion batteries and control of redox processes are also greatly needed."
Meanwhile, ACS NANO Editor-in-Chief Paul S. Weiss spoke on the importance of heterogeneity in the structure and function of molecules and nanoscale assemblies. He stressed that such extensiveness of multi-interdisciplinary research will accelerate a greater impact as indicated when the fields of neuroscience and microbiome converged with nanoscience and nanotechnology.
Editor-in-Chief of Chemistry of Materials Professor Jillian M. Buriak from the University of Alberta described how predictive models and machine learning can replace time consuming empirical device production and screening. By understanding and pinpointing the frustrating bottlenecks in the design of stable and efficient organic photovoltaics, much faster throughput can be obtained to enable a more direct pathway to stability, efficiency, and finally commercialization.