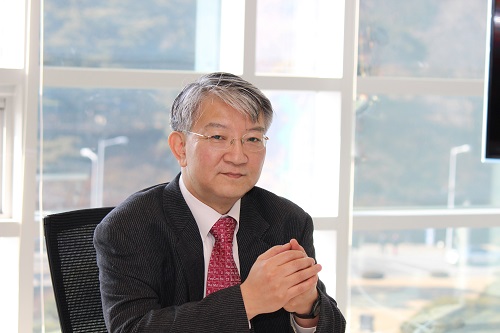 (Distinguished Professor Lee)

Distinguished Professor Sang Yup Lee from the Department of Chemical and Biomolecular Engineering will become the 11th recipient of the George Washington Carver Award. The award ceremony will be held during the 2018 Biotechnology Innovation Organization (BIO) World Congress on Industrial Biotechnology from July 16 through 19 at the Pennsylvania Convention Center in Philadelphia.
The annual Carver award recognizes an individual who has made a significant contribution to building the bio-based economy by applying industrial biotechnology to create environmentally sustainable products. It serves as a lasting memorial to the original vision of George Washington Carver who, over a century ago, pioneered bio-based products, materials, and energy derived from renewable agricultural feedstock. Previous recipients include the founder and CEO of POET Jeff Broin, the CEO of DuPont Ellen Kullman, and Professor Gregory Stephanopoulos at MIT.
Professor Lee is a pioneering scholar of systems metabolic engineering, leveraging technology to develop microbial bioprocesses for the sustainable and environment-friendly production of chemicals, fuels, and materials from non-food renewable biomass. He also serves as the dean of the multi-and interdisciplinary research center hub, KAIST Institute.Through his work, Professor Lee has garnered countless achievements, including being one of only 13 people in the world elected as a foreign member of both the National Academy of Sciences USA and the National Academy of Engineering USA.
He has actively promoted the importance of industrial biotechnology through engagement with the public, policymakers, and decision makers around the world. He currently serves as the co-chairman of the Global Future Council on Biotechnology for the World Economic Forum and served as the Chairman of the Emerging Technologies Council and Biotechnology Council for the World Economic Forum.

Upon the award announcement, Dr. Brent Erickson, executive vice president of BIO's Industrial & Environmental Section lauded Professor Lee's achievement, saying "Dr. Lee has advanced the bio-based economy by developing innovative products and processes that are sustainable and environmentally friendly. In doing so, he has become a leader in advocating on the importance of industrial biotechnology. His contributions to the advancement of the industry are a continuation of the legacy left behind by George Washington Carver."
Professor Lee thanked his research team who has worked together for the past few decades, adding, "Industrial biotechnology is becoming increasingly important to help achieve the UN's Sustainable Development Goals. We should continue to work together to advance the field and establish a solid foundation for the sustainable future."

The George Washington Carver Award is sponsored by the Iowa Biotechnology Association. Joe Hrdlicka, executive director of the Iowa Biotechnology Association, said, "Dr. Sang Yup Lee's significant contributions to the advancement of industrial biotechnology make him the perfect recipient for the George Washington Carver Award. Having published more than 575 peer-reviewed papers, contributed to 82 books, and holding 636 patents, the culmination of Dr. Lee's work has led to the establishment of sustainable systems for bio-based production of chemicals, fuels, and materials, thus reducing environmental impact and improving quality of life for all."