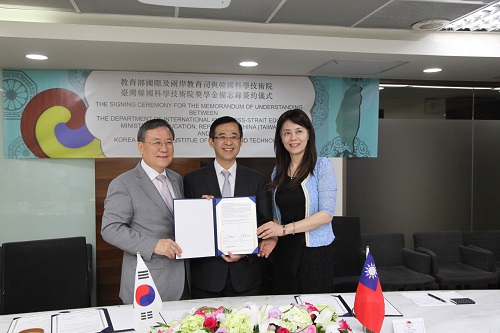 (President Shin, Taiwanese Acting Minister of Education Yao, Deputy Director General Chang at the Ministry of Education pose after signing the MOU.(from left))
President Sung-Chul Shin signed an MOU with the Ministry of Education in Taiwan for the Taiwanese PhD scholarship program. The signing was made between President Shin and Dr. Yao Leehter, acting Minister of Education in Taiwan, on June 27.

The Taiwanese Ministry of Education is signing MOUs with prestigious universities around the world to encourage its students to pursue study abroad opportunities at top schools. According to the MOU, Taiwanese PhD candidates will be able to use KAIST scholarships for their tuition fees, while the Taiwanese government will provide a stipend and living costs for four years from next September.

KAIST became the 14th university to sign this MOU, joining a group of top universities that includes University of Cambridge, Oxford University, California Institute of Technology, and Columbia University in the US. KAIST is the first institution in Asia to sign the MOU.

Acting Minister Yao said, "KAIST has emerged as a world leading university in less than five decades since its foundation. This remarkable growth led us to partner with KAIST. We hope this will serve as an opportunity to further our partnership in research collaboration as well as students exchanges."

President Shin appreciated the Taiwanese government's recognition of KAIST's global reputation. He said, "We will closely collaborate with the Taiwan government and its universities for transforming educational opportunities to better respond to the Fourth Industrial Revolution.