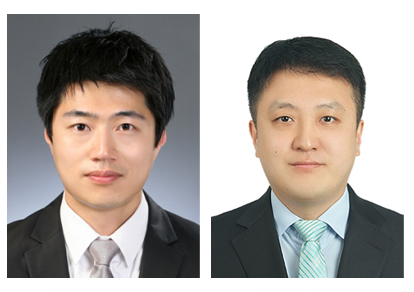 (From left: PhD candidates Minseok Kang and Junkeon Ahn)
PhD candidates Minseok Kang and Junkeon Ahn from the Department of Mechanical Engineering received Future Ocean Science and Technology Awards from the Korean Association of Ocean Science and Technology Societies (KAOSTS).
Since 2017, KAOSTS has conferred this award upon graduate students who have published outstanding papers on ocean science and technology in order to encourage young researchers in this area.
Kang published 'Ship block assembly sequence planning considering productivity and welding deformation' in Naval Architecture and Ocean Engineering in which he proposed an assembly sequence planning method for block assemblies that considers the geometric characteristics of blocks to determine feasible assembly sequences as well as assembly process and productivity factors.
Ahn published 'Fuzzy-based FMEA of hybrid MCFC and gas turbine system for marine propulsion' in Power Sources. In this research, he conducted a study proposing a fuzzy-based failure mode and effect analysis (FMEA) for a hybrid molten carbonate fuel cell and gas turbine system for liquefied hydrogen tankers.