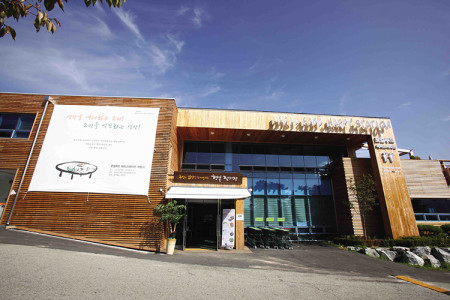 A research team led by the KAIST Auto-ID Labs developed a GS1 international standard-based IoTs infrastructure platform dubbed Oliot (Open Language of Internet of Things). This platform will be applied to Wanju Local Food, the nation's largest cooperative, and will be in operation from April 5.
A total of eleven organizations participated in the development of Oliot, with KAIST as the center. This consortium is based on the GS1 international standard-based Oliot platform, which allows collecting and sharing data along the entire process of agrifood from production to processing, distribution, and consumption. It aims at increasing farm incomes and establishing a global ecosystem of domestic agriculture and stockbreeding that provides safe food.
Wanju Local Food is now the world's first local food co-op with a traceability system from the initial stage of production planning to end sales based on GS1 international standards, which will ensure food safety.
KAIST has been sharing Oliot data in order to apply it to industries around the world. As of April 2018, approximately 900 enterprises and developers from more than 100 countries have downloaded it.
Professor Daeyoung Kim from the School of Computing, who is also Research Director of Auto-ID Labs said, "We are planning to disseminate Oliot to local food cooperatives throughout the nation. We will also cooperate with other countries, like China, Holland, and Hong Kong to create a better ecosystem for the global food industry.
"We are currently collaborating with related business to converge Oliot with AI or blockchain technology that can be applied to various services, such as healthcare and smart factories. Its tangible outcome will be revealed soon," he added.
Auto-ID Labs are a global research consortium of six academic institutions that research and develop new technologies for advancing global commerce, partnering with GS1 (Global Standard 1), a non-profit organization that established standards for global commerce such as introducing barcodes to the retail industry. The Auto-ID Labs include MIT, University of Cambridge, Keio University, Fudan University, ETH Zurich/University of St. Gallen, and KAIST.
The consortium was supported by the Ministry of Science and ICT as well as the Institute for Information and Communications Technology Promotion for three years from 2015.
The launching of Oliot at Wanju Local Food will be held on April 5.