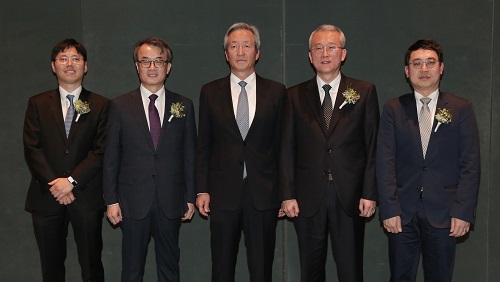 (Professor Ho Min Kim and Chair Profesor Eunjoon Kim (from far right)
Chair Professor Eunjoon Kim of the Department of Biological Sciences and Professor Ho Min Kim from the Graduate School of Medical Science & Engineering won the 11th Asan Medical Award in the areas of basic medicine and young medical scholar on March 21.

The Asan Medical Award has been recognizing the most distinguished scholars in the areas of basic and clinical medicines annually since 2007.

Chair Professor Kim won the 300 million KRW award in recognition of his research in the mechanism of synaptic brain dysfunction and its relation with neural diseases.

The young medical scholar's award recognizes a promising scholar under the age of 40. Professor Kim won the award for identifying the key protein structure and molecular mechanism controlling immunocytes and neurons. He earned a 50 million KRW prize.