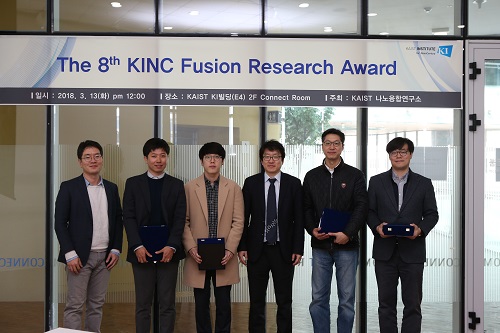 The KAIST Institute for NanoCentury held the 8th KINC Fusion Research Award in order to encourage professors' convergence studies and instill students' willingness to research. The award ceremony took place in the KI Building at KAIST on March 13.
The KINC Fusion Research Award selects the most outstanding convergence studies among research undertaken last year, and awards researchers who participated in that research.
The 8th KINC Fusion Research Award went to Professor Yoon Sung Nam from the Department of Materials Science and Engineering and Professor Inkyu Park from the Department of Mechanical Engineering. Their research reported the spontaneous self-biomineralization of palladium (Pd) ions on a filamentous virus to form ligand-free Pd nanowires without reducing reagents or using additional surface stabilizers (Title: Virus-Templated Self-Mineralization of Ligand-Free Colloidal Palladium Nanostructures for High Surface Activity and Stability, Advanced Functional Materials (2017)).
Professor Hee-Tae Jung, the Director of KAIST Institute for the NanoCentury and the host of the KINC Fusion Research Award said, "Convergence will be the crucial keyword that will lead to revolutionary change. Hence, the importance of convergence study should be improved. We will put every effort into creating a research environment for increasing convergence study.
The KAIST Institute for the NanoCentury was established in June 2006 under the KAIST Institute with a mission of creating convergence study by tearing down boarders among departments and carrying out interdisciplinary joint research. Currently, approximately 90 professors from 14 departments participate the institute. It aims to become a hub of university institutes for nano-fusion research.