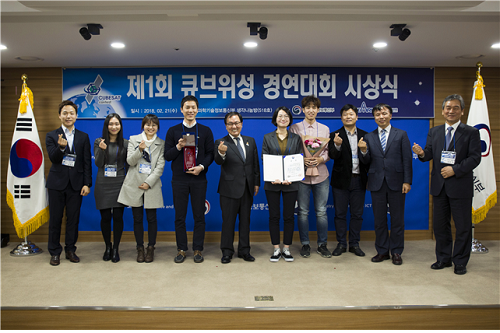 Professor Hyochoong Bang from the Department of Aerospace Engineering and his team received the Minister of Science and ICT Award at the 1st Cube Satellite Competition.
The team actually participated in the competition in 2012, but it took several years for the awarding ceremony since it took years for the satellites to be designed, produced, and launched.
The KAIST team successfully developed a cube satellite, named 'Little Intelligent Nanosatellite of KAIST (LINK)' and completed its launch in April 2017.
LINK (size: 20cmx10cmx10cm, weight: 2kg) mounted mass spectrometry and Langmuir probe for Earth observation. The Langmuir probe was developed by Professor Kyoung Wook Min from the Department of Physics, KAIST.
Yeerang Lim, a PhD student from the Department of Aerospace Engineering said, "I still remember the feeling that I had on the day when LINK launched into orbit and sent back signals. I hope that space exploration is not something far away but attainable for us in near future."