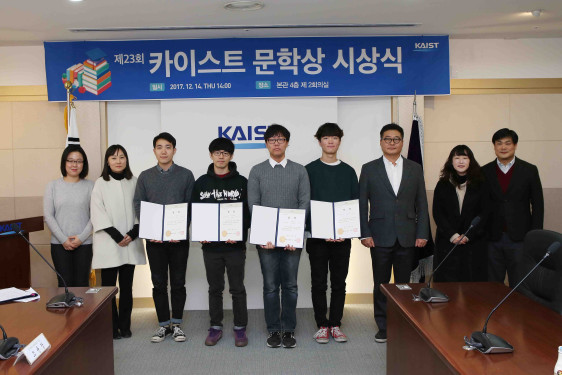 Since KAIST is a university specializing in science and engineering, people may think that the students rarely engage in literary activities. But KAIST students also excel in writing literature.

The 23rd KAIST Literary Award Ceremony was held on December 14 on the KAIST main campus. The award was established in 1995 to encourage students' creative activities and to promote literary attainment. It is open to all KAIST students from undergraduate to masters and PhD students. This year, 43 students submitted a total of 68 literary works in the genres of poetry, novel, critique, and scenario.

KAIST professors Dong Ju Kim, Bong Gwan Jun, and Yunjeong Jo from the School of Humanities & Social Sciences participated as judges for the awards and they were joined by writers from the 8th Endless Road Program who served as invited judges for the novels and scenarios.

The Endless Road Program is a KAIST project for supporting artists who are engaged in literary works including scenarios, novels, webtoons, and movies by providing residences and funds. Novelists Jin Young Choi and Hak Chan Kim participated as judges for the novels and a drama scriptwriter, Joo Kim, as a judge of the scenarios.
After thorough evaluation, four submissions were chosen as awardees.
Section

Award

Name

Poetry

Winner

Sung Gil Moon (PhD candidate from the College of Business)

Runner-up

Jong Ik Jeon (Undergraduate student)

Novel

Winner

Joo Hwan Kim
(Undergraduate from the Dept. of Chemical and Biomolecular Engineering)

Runner-up

-

Essay & Critique

Winner

-

Runner-up

Jung Joon Park

(PhD candidate from the Dept. of Bio and Brain Engineering)

Scenario

Winner

-

Runner-up

-
The literary works as well as a review of the awards will be published in the KAIST Times in 2018.