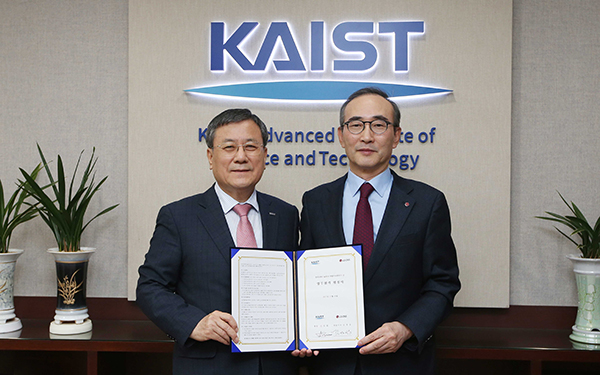 < KAIST Signed an MoU with LG CNS to Reinforce Industry-Academia Cooperation >
On November 20, KAIST signed an MoU with LG CNS for industry-academia partnership in education, research, and business in the fields of AI and Big Data. Rather than simply developing education programs or supporting industry-academia scholarships, both organizations agreed to carry out a joint research project on AI and Big Data that can be applied to practical business.
KAIST will collaborate with LG CNS in the fields of smart factories, customer analysis, and supply chain management analysis.
Not only will LG CNS offer internships to KAIST students, but it also will support professors and students who propose innovative startup ideas for AI and Big Data. Offering an industry-academia scholarship for graduate students is also being discussed. Together with LG CNS, KAIST will put its efforts into propose projects regarding AI and Big Data in the public sector.
Furthermore, KAIST and LG CNS will jointly explore and carry out industry-academia projects that could be practically used in business. Both will carry out the project vigorously through strong cooperation; for instance, LG CNS employees can be assigned to KAIST, if necessary. Also, LG CNS's AI and Big Data platform, called DAP (Data Analytics & AI Platform) will be used as a data analysis tool during the project and the joint outcomes will be installed in DAP.
KAIST professors with expertise in AI deep learning have trained LG CNS employees since the Department of Industrial & Systems Engineering established 'KAIST AI Academy' in LG CNS last August.
"With KAIST, the best research-centered university in Korea, we will continue to lead in developing the field of AI and Big Data and provide innovative services that create value by connecting them to customer business," Yong Shub Kim, the CEO of LG CNS, highlighted.