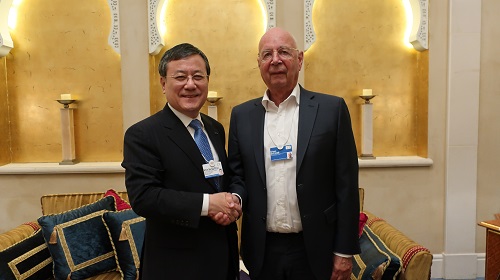 (President Shin poses with Chairman Schwab at the meeting in Dubai)
President Sung-Chul Shin and Executive Chairman Klaus Schwab of the World Economic Forum agreed to co-host the Fourth Industrial Revolution Forum next April in Seoul during a meeting at the WEF Global Future Councils 2017 held in Dubai November 11-12.

Next April's forum will be a follow-up event of the roundtable discussion KAIST and the WEF Center for the Fourth Industrial Revolution co-hosted in October in Seoul. The two hosted the roundtable discussion titled "Mastering the Fourth Industrial Revolution: The Future of Jobs and Inclusive Growth in Korea."

During the annual meeting in Dubai, Chairman Schwab expressed his deep appreciation to President Shin for hosting the roundtable discussion and proposed a full-fledged forum in partnership with KAIST once again, which Chairman Schwab will be scheduled to attend.

Chairman Schwab emphasized once again that Korea, who has the world's top high-end technologies such as 5G telecommunications and semiconductor memory, will be the best fit to realize the Fourth Industrial Revolution most rapidly. He also expressed his great interest in the city of Daejeon in which is being considered to become the Special City for the Fourth Industrial Revolution.

The Global Future Council of the WEF is the interdisciplinary knowledge network dedicated to promoting innovative thinking on the future. The annual council convenes in Dubai the most relevant and knowledgeable thought leaders from academia, government, business, and civil society to challenge conventional thinking and develop new insights and perspectives on key global systems, as well as the impact and governance of key emerging technologies. This year, more than 850 world-leading experts from 74 countries participated.

Under the theme of 'Vision 2030,' participants explored systematic changes in key areas such as energy, mobility, and infrastructure while reflecting on the impact of technological breakthroughs in artificial intelligence, biotechnology, and other areas related to the Fourth Industrial Revolution.