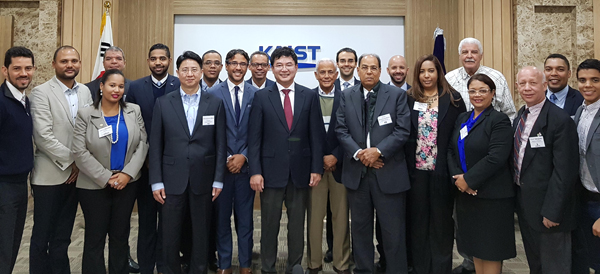 KAIST will host a two-week workshop for Dominican Republic officials and scholars in collaboration with KOICA (Korea International Cooperation Agency) beginning October 23 at KAIST.

The workshop aims to encourage academia-industry cooperation as one of the Projects for Human Resource Development for Science and Technology at KOICA. Dominican participants including the assistant minister of the Ministry of Higher Education, Science and Technology (MESCYT) and deans of engineering colleges at major universities will enjoy lectures from experts and visit enterprises known for excellent academia-industry collaboration.

According to the Center for Overseas Development, at which Professor WonJoon Kim in the School of Business and Technology Management at KAIST holds the position of director, the workshop is designed to develop human resources in the science and technology (S&T) area, share knowledge on research and development in the field of academia-industry cooperation, and help the participants acquire know-how for managing partnerships between related organizations and industries.

During the workshop, KAIST plans to transfer know-how and share knowledge on its academia-industry cooperation R&D system, in hopes that the workshop will help the Dominican Republic foster its manpower in higher education. The workshop organizers hope that the officers and scholars will be able to apply what they will learn for establishing and carrying out detailed action plans for academia-industry cooperation policies in an effective manner.

"This workshop provides an opportunity to learn about the development of S&T in Korea, academia-industry cooperation R&D, and fostering manpower in advanced S&T. Through the knowledge sharing, we can have a better understanding of academia-industry cooperation as well as education on advanced manpower," said Pedro Antonio Eduardo, the assistant minister of MESCYT.

He added, "I hope that this workshop will further detailed cooperation between the two countries for Korean high-tech enterprises' overseas expansion and advanced manpower education. The development model in Korea has many essential elements, so learning its engine for growth and polytechnic manpower education will help develop my country's industry sector."

The Project for Human Resource Development for Science and Technology is one of the official development assistance projects running from last year until 2019. It promotes R&D activities for S&T in the Dominican Republic, encouraging academia-industry cooperation by improving trainers in charge of advanced manpower education.