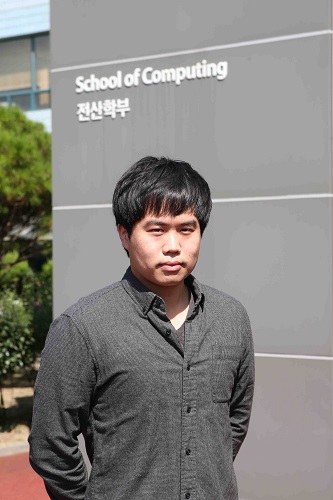 Sangeun Oh, a Ph.D. candidate in the School of Computing was selected as a Google PhD Fellow in 2017. He is one of 47 awardees of the Google PhD Fellowship in the world.
The Google PhD Fellowship awards students showing outstanding performance in the field of computer science and related research. Since being established in 2009, the program has provided various benefits, including scholarships worth $10,000 USD and one-to-one research discussion with mentors from Google.
His research work on a mobile system that allows interactions among various kinds of smart devices was recognized in the field of mobile computing. He developed a mobile platform that allows smart devices to share diverse functions, including logins, payments, and sensors. This technology provides numerous user experiences that existing mobile platforms could not offer. Through cross-device functionality sharing, users can utilize multiple smart devices in a more convenient manner. The research was presented at The Annual International Conference on Mobile Systems, Applications, and Services (MobiSys) of the Association for Computing Machinery in July, 2017.
Oh said, "I would like to express my gratitude to my advisor, the professors in the School of Computing, and my lab colleagues. I will devote myself to carrying out more research in order to contribute to society."
His advisor, Insik Shin, a professor in the School of Computing said, "Being recognized as a Google PhD Fellow is an honor to both the student as well as KAIST. I strongly anticipate and believe that Oh will make the next step by carrying out good quality research."