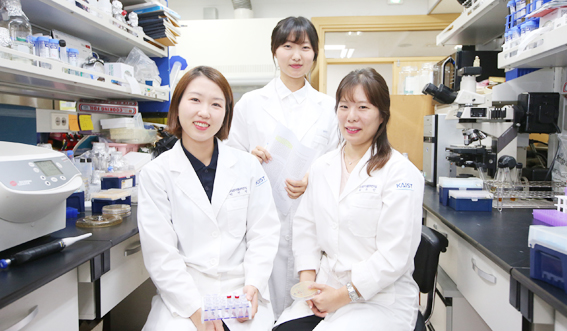 (From left: Seon Young Park, Dr. So Young Choi, and Yoojin Choi)


Researchers in the laboratory of KAIST Distinguished Professor Sang Yup Lee from the Department of Chemical and Biomolecular Engineering swept awards at the 13th Asian Congress on Biotechnology held in Thailand last month. The conference awarded a total of eight prizes in the areas of best research and best poster presentation. This is an exceptional case in which members of one research team received almost half of the awards at an international conference.
Dr. So Young Choi received the Best Research Award, while Ph.D. candidates Yoojin Choi and Seon Young Park each received the Best Poster Presentation Award at the conference held in Khon Kaen, Thailand from July 23 to 27.
The Asian Congress on Biotechnology is an international conference in which scientists and industry experts in Asia and from around the world gather to present recent research findings in the field of biotechnology. At the conference, around 400 researchers in biotechnology from 25 countries, including Korea, gathered to present and discuss various research findings under the theme of "Bioinnovation and Bioeconomy."
Distinguished Professor Sang Yup Lee attended the conference to give the opening plenary lecture on the topic of 'Systems Strategies in Biotechnology.' Professor Lee announced, "I have attended international conferences with students for the last 20 years, but this is the first in which my team received three awards at an international conference that only honors a total of eight awards, three for Best Research and five for Best Presentation."
Dr. Choi presented research results on poly (lactate-co-glycolate) (PLGA) synthesis through a biological method using micro-organisms and received the Best Research Award. PLGA is a random copolymer of DL-lactic and glycolic acids and is a biopolymer widely used for biomedical applications. PLGA is biodegradable, biocompatible, and nontoxic, and thus has been approved by the US Food and Drug Administration (FDA) for its use in implants, drug delivery, and sutures.
Dr. Choi's research was deemed to be innovative for synthesizing PLGA from glucose and xylose in cells through metabolic engineering of E.Coli. Dr. Choi received her Ph.D. under the supervision of Distinguished Professor Lee this February and is currently conducting post-doc research.
Ph.D. candidate Choi presented her research on the use of recombinant E.Coli for the biological synthesis of various nanoparticles and received the Best Poster Presentation award. Choi used recombinant E.Coli-expressing proteins and peptides that adsorb to heavy metals to biologically synthesize diverse metal nanoparticles such as single-nanoparticle including gold and silver, quantum dots, and magnetic nanoparticles for the first time. The synthesized nanoparticles can be used in the fields of bio-imaging, diagnosis, environment, and energy.
Ph.D. candidate Park, who also received the Best Poster Presentation award, synthesized and increased production of astanxanthin, a strong antioxidant found in nature, in E.Coli using metabolic engineering. Astanxanthin is a carotenoid pigment found in salmon and shrimp that widely used in health products and cosmetics.