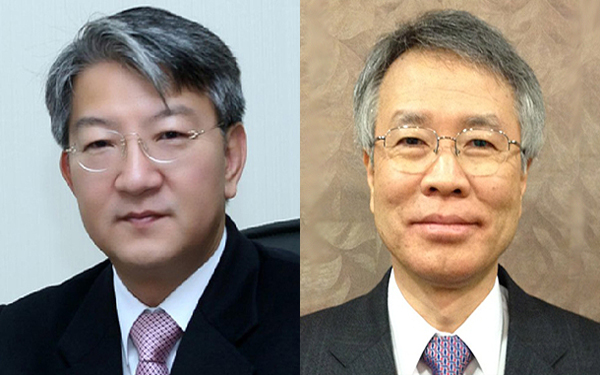 (Distinguished Professors Sang Yup Lee (left) and Kyu-Young Whang)
Distinguished Professors Sang Yup Lee from the Department of Chemical and Biomolecular Engineering and Kyu-Young Whang of the College of Computing were selected as the winners of the "2017 Korea Best Science and Technology Award" by the Ministry of Science, ICT and Future Planning (MSIP) and the Korea Federation of Science and Technology Societies.

The award, which was established in 2003, is the highest honor bestowed to the two most outstanding scientists in Korea annually. This is the first time that KAIST faculty members have swept the award since its founding.

Distinguished Professor Lee is renowned for his pioneering studies of system metabolic engineering, which produces useful chemicals by utilizing microorganisms. Professor Lee has developed a number of globally-recognized original technologies such as gasoline production using micro-organisms, a bio-butanol production process, microbes for producing nylon and plastic raw materials, and making native-like spider silk produced in metabolically engineering bacterium which is stronger than steel but finer than human hair.

System metabolism engineering was also selected as one of the top 10 promising technologies in the world in 2016 by the World Economic Forum. Selected as one of the world's top 20 applied bioscientists in 2014 by Nature Biotechnology, he has many 'first' titles in his academic and research careers. He was the first Asian to win the James Bailey Award (2016) and Marvin Johnson Award (2012), the first Korean elected to both the US National Academy of Science (NAS) and the National Academy of Engineering (NAE) this year. He is the dean of KAIST institutes, a multi and interdisciplinary research institute at KAIST. He serves as co-chair of the Global Council on Biotechnology and as a member of the Global Future Council on the Fourth Industrial Revolution at the World Economic Forum.

Distinguished Professor Whang, the first recipient in the field of computer science in this award, has been recognized for his lifetime achievement and contributions to the development of the software industry and the spreading of information culture. He has taken a pioneering role in presenting novel theories and innovative technologies in the field of database systems such as probabilistic aggregation, multidimensional indexing, query, and database and information retrieval. The Odysseus database management system Professor Hwang developed has been applied in many diverse fields of industry, while promoting the domestic software industry and its technical independence.

Professor Hwang is a fellow at the American Computer Society (ACM) and life fellow at IEEE. Professor Whang received the ACM SIGMOD Contributions Award in 2014 for his work promoting database research worldwide, the PAKDD Distinguished Contributions Award in 2014, and the DASFAA Outstanding Contributions Award in 2011 for his contributions to database and data mining research in the Asia-Pacific region. He is also the recipient of the prestigious Korea (presidential) Engineering Award in 2012.