(Photo caption: Diplomats and KAIST faculty pose at the Embassy Day KAIST hosted on June 23.)
KAIST is stepping up its initiative for building global competitiveness. The Embassy Day hosted on June 23 will be a stepping stone to diversify its channels for promoting the global presence of KAIST. KAIST invited the foreign diplomatic corps from Seoul to share their successful journey to emerge as the world-class university. The event featured KAIST's research highlights, academic experiences, and global environment through presentations by faculty and students.

KAIST President Sung-Chul Shin said in his welcoming speech that he hopes for brains from around the world to come to KAIST and believes this event will serve as an opportunity to spread the global reputation of KAIST more widely. President Shin, who took office in March, ambitiously hosted this event for the first time, saying, "We didn't expect this big of a response from the diplomats. The presence of this leading group of diplomats reflects how KAIST's reputation has blossomed."

Nearly 100 diplomats from 65 countries attended the event held at the Grand Hyatt Seoul. Among the participants were ambassadors from 33 countries including Australian Amb. James Choi, Canadian Amb. Eric Walsh, and German Amb. Stephan Auer, reflecting the growing interest in the advancements in science and technology education and innovation in KAIST.

The entire leadership team of KAIST turned out for the event including Provost O-Ok Park, Associate Vice President of the International Office Jay Hyung Lee, and Dean of Admissions Hayong Shin to provide an update on KAIST activities as well as admission policies, and make a new network with the foreign envoys.

At the event, KAIST presented some of its latest research highlights that are gaining international acclaim. Professor Jun-ho Oh, director at the Humanoid Robot Research Center talked on the short history of the development of the KAIST humanoid robot, HUBO, which won the DARPA Robotics Challenge (DRC) in 2015. Distinguished Professor Sang-Yup Lee, dean of the KAIST Institute, which is the center of multidisciplinary research projects in KAIST, made a presentation on advances in metabolic engineering. In addition, Professor David Helfman of the Department of Biological Science shared his research on breast cancer and metastasis.

Foreign students and faculty shared their experiences on becoming part of the KAIST community during the testimonial session. In particular, the story of Professor Jean-Charles Bazin of the Graduate School of Culture Technology was quite moving. Originally from France, Professor Bazin talked about his unique career path, starting as an exchange student at KAIST before settling down as a faculty member here. He cited the high caliber group of faculty as one of the reasons he completed his Ph.D. at KAIST. "Most of the faculty members are from top institutions in the US, Europe, and around the world, so they have very resourceful contacts with distinguished researchers and scholars abroad. That helped me make up my mind to choose KAIST," he said.

Currently, 179 foreign faculty and researchers from over 31 countries, representing 8.7% of the total faculty, are working at KAIST. Also, 710 foreign students from 86 countries, representing about 8% of the total students, are now studying at KAIST.

President Shin continued, "In this complex global era, brains follow the best path to where they can reach their potential. KAIST is now gaining tremendous strength by becoming a magnet for talents from around the world. We would like to recruit these brains to create new knowledge with a global impact. Then we will become true global university with supremacy in research and education.

President Shin said KAIST is gearing up for another round of innovation initiatives in education, convergence research, technology commercialization, future strategies, and globalization. He emphasized that globalization of the campus is a must for building up our global competitiveness.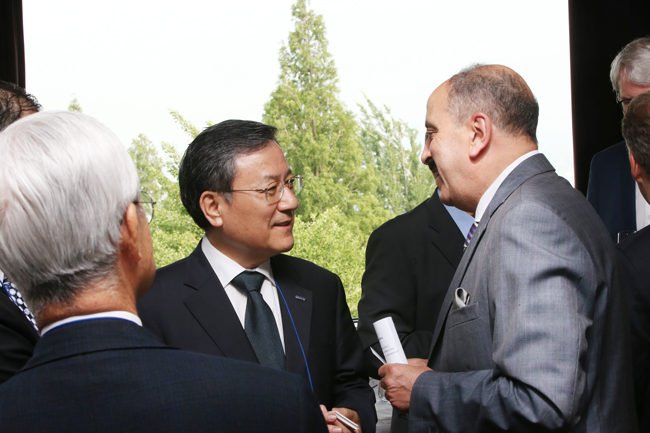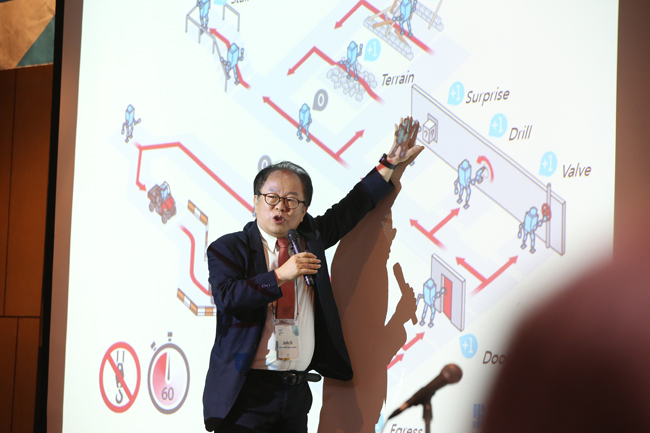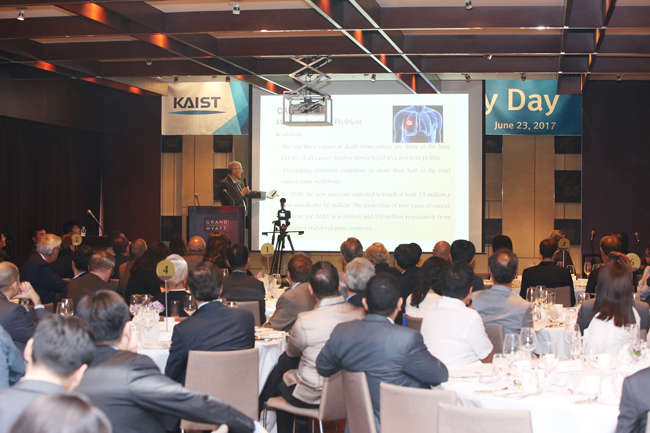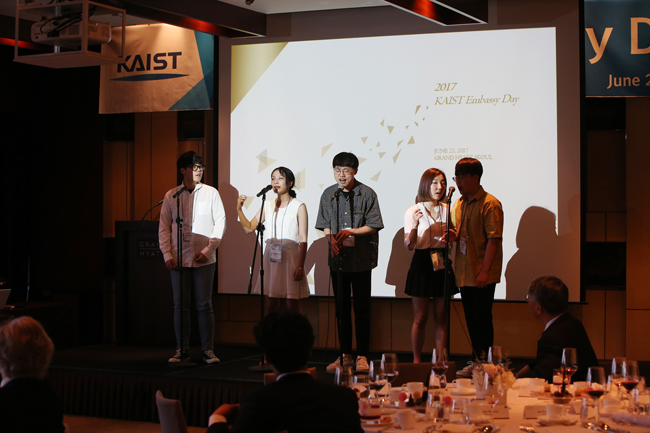 (Photo caption from the top: President Shin greets participant. Professor Oh explains the functions of the HUBO. Professor Helfman presents on his research of breast cancer and metastasis. KAIST a capella group showcases singing skills at the event. Participants meet and greet at the Embassy Day.)