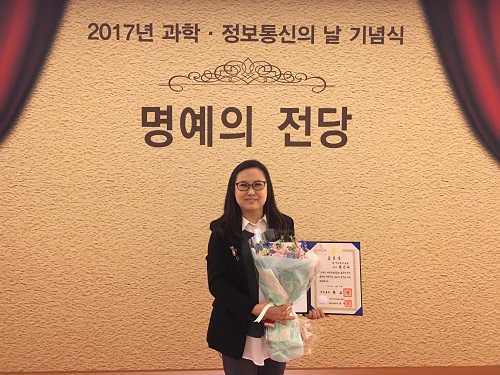 Professor Jinah Park of the School of Computing received the Prime Minister's Citation Ribbon on April 21 at a ceremony celebrating the Day of Science and ICT. The awardee was selected by the Ministry of Science, ICT and Future Planning and Korea Communications Commission.

Professor Park was recognized for her convergence R&D of a VR simulator for dental treatment with haptic feedback, in addition to her research on understanding 3D interaction behavior in VR environments. Her major academic contributions are in the field of medical imaging, where she developed a computational technique to analyze cardiac motion from tagging data.

Professor Park said she was very pleased to see her twenty-plus years of research on ways to converge computing into medical areas finally bear fruit. She also thanked her colleagues and students in her Computer Graphics and CGV Research Lab for working together to make this achievement possible.