Professor Duck-Joo Lee of the Department of Aerospace Engineering was awarded the 21st Century Grand Prize in the field of technology development by the New Industry Management Academy and the 21st Leaders Club on April 13.
Professor Lee was honored in recognition of his contribution to the helicopter industry. He played a part in domestic helicopter development projects including the KUH-1 Surion (Korean Attack Helicopter), a twin-engine, transport utility helicopter as well as LAH (Light Armed Helicopter) and LCH (Light Civil Helicopter) projects.
Since joining KAIST in 1988, Professor Lee supervised more than 26 PhDs and 27 MSs. He was responsible for hosting the 1st Asian-Australian Rotorcraft Forum and Exhibition and currently serves as vice president of the American Helicopter Society and the Korea Drone Industry Promotion Association. He also participated in open online courses on K-MOOC and Coursera.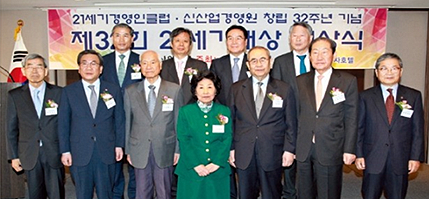 (Caption: Professor Lee (second from left in the first row) poses after receiving the award.)