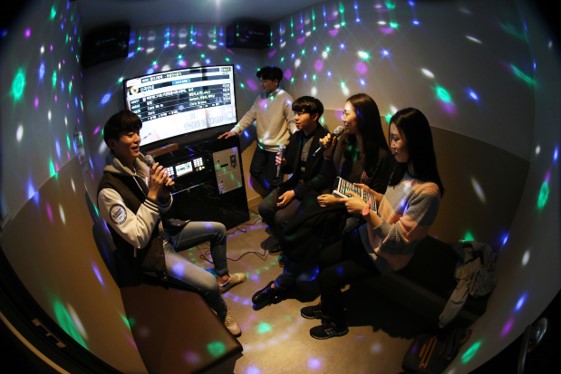 Singing at the top of your lungs can sometimes be a healthy outlet for relieving your stress. The Undergraduate Student Association at KAIST offers just that. They created coin karaoke kiosks on campus where students can visit and sing their favorite songs across a variety of music genres.
The KAI Coin Karaoke opened near the amphitheater, which consists of five kiosks for one to three people, two booths for six people, and one self-service coin machine. The operation hours are from 12 pm to 2 am, and it costs only 500 KRW for two songs.

"I often enjoy going to a karaoke for singing whenever I feel down and need to let things out," said Tae-Sik Im, a junior undergraduate of the School of Computing. "Now, I don't have to leave campus to find a place to sing. It's much more convenient and safer."

Many students even squeeze in time to stop by the karaoke during their breaks in between classes and enjoy belting out songs. Afterwards, students confessed, they are in a better mood for class.
"We received a great deal of support from our students during our trial period in February. The facility officially opened on March 20 and anyone can go there and find some time to refresh themselves," explained Young-Duck Cho, president of KAIST Undergraduate Student Association. He said all proceeds will go to students' welfare fund. There are three rules to abide by for karaoke users though: no alcohol, no smoking, and no haning out.

(Photo caption:Students sing out at the newly opened KAI Coin Karaoke on the campus.)