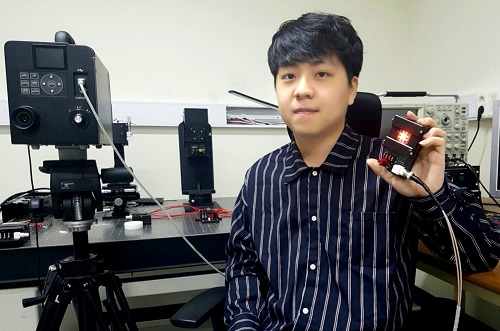 (PhD Candidate Yongmin Jeon)
There have been many cases in which OLEDs are applied to electronic devices, and now they have even been extended to therapeutic fields. A KAIST research team succeeded in developing a wearable photobiomodulation (PBM) patch to treat wounds. This technology will allow injuries to be treated regardless of location or time.
Professor KyungCheol Choi from the School of Electrical Engineering, in collaboration with Seoul National University Bundang Hospital's team, conducted research on PBMs which are a clinical method widely used in hospitals. They are considered to be a safe, noninvasive, and nonsurgical method that require relatively low light power.
Conventionally, light-emitting diodes (LEDs) have been used in PBM applications; however, LED devices are usually inflexible and difficult to irradiate light uniformly. They may also produce localized heat. Due to these constraints, it was difficult to enhance the clinical effects of LED devices as they cannot stick to the human body.
Choi's team developed a wearable patch using flexible OLEDs, allowing people to be treated outside of hospitals. A thin film has been developed for the patch, containing not only flexible OLEDs but also batteries and anti-superheating devices.
Moreover, its thickness is less than 1mm and its weight is less than 1g. This lightweight and ultra-thin patch with a bending radius is 20mm can be used more than 300 hours.
These patches are usable at a temperature below 42℃ to eliminate the risk of low-temperature burns. They also meet the safety regulations of the International Organization for Standardization (ISO) at red wavelengths (600–700 nm).
The wearable PBM patches showed excellent effects with in vitro wounds because they stimulated cell proliferation over 58% of control as well as cell migration over 46% of control under various conditions.
Yongmin Jeon, who led this research, said, "The wearable PBM is effective and convenient, so people can simply purchase it at a pharmacy without having to visit a hospital. If we can adjust the power and wavelength of the OLEDs, its application can be extended to skin care, cancer treatment, Alzheimer's disease treatment, and mental healthcare."
Professor Choi added, "We have applied the advantages of flexible OLEDs, which are often used for fabricating displays, to PBMs. This technology will open the way to commercialize portable and highly-efficient wearable photobiomodulation devices."
This research was published in the front cover of Advanced Materials Technologies on May, 2018.
Figure 1. The patch attached to a human face, a hand and examples of treatment applications

Figure 2. The migration of cells into the scratched area