A KAIST research team has identified a process of tissue damage caused by bystander immune cells in acute viral infections. This research will pave the way for research to understand the principles of tissue damage in viral infections and immune diseases, and can point toward a possible therapeutic target for the treatment.
Upon viral infection, viral replication itself destroys human cells, but in some cases, viral replication is not the direct cause of the tissue damage. In particular, the destruction of infected cells is the primary cause of tissue damage during non-cytopathic viral infections such as hepatitis A virus, hepatitis B virus and hepatitis C virus. However, the underlying pathological mechanisms involved in the tissue damage during viral infections have not been fully elucidated.
Specificity is one of the most important characteristics of the immune system. In general, infection from a certain virus specifically activates immune cells targeting the virus, while other immune cells specific to different viruses remain inactive.
An immune cell not specific to an infected virus is called a bystander immune cell. A phenomenon that activates irrelevant immune cells not originally targeting the infecting virus, called the activation of bystander immune cells, is already known to the world; however, its clinical significance has not been investigated thoroughly.
Professor Eui-Cheol Shin and Professor Su-Hyung Park from the Graduate School of Medical Science and Engineering analyzed patients with acute hepatitis A, in collaboration with Chung-Ang University Hospital.
The team found not only immune cells specifically targeting the hepatitis A virus were activated, but also bystander immune cells were activated and involved in the damaging of liver tissues during acute hepatitis A.
According to the research, when a person is infected with hepatitis A virus, hepatitis A virus-infected cells produce IL-15, which induces the activation of bystander immune cells. Activated bystander immune cells exert innate-like cytotoxicity, triggered by activating receptors NKG2D and NKp30 and this can lead to liver injury.
Through describing the cause of excessive tissue damage during acute viral hepatitis, the research outcome is expected to provide critical contributions for the development of potential therapeutic intervention that can minimize tissue damage caused by viral hepatitis and immune disorders.
Professor Shin said, "This is a novel research case that discovered the clinical significance of bystander immune cell activation, which was previously unknown. We will continue to work on establishing treatments which could prevent tissue damage in viral and immune diseases in the future."
This research was published in Immunity on January 2.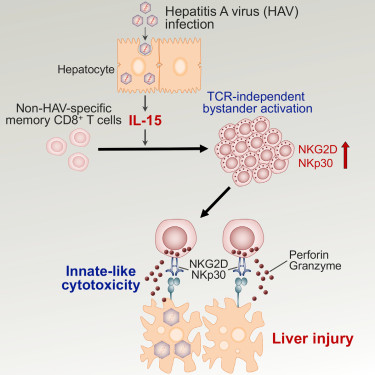 Figure 1. Graphical abstract