KAIST took second place in an international competition to promote technologies of the autonomous underwater vehicle (AUV).
Professor Jin-hwan Kim's research team from KAIST's Ocean Systems Engineering Department won the second place in Maritime RobotX Challenge which took place for the first time from October 20 - 26 in Marina Bay, Singapore.
Along with automobiles and drones, the necessity for unmanned boats has grown. To encourage and examine the development of these technologies, the U.S. Office of Naval Research decided to organize an unmanned boat competition which took place for the first time this year.
After three teams were selected from a domestic competition in each countries, a total of fifteen teams from five countries from the Pacific Rim including Korea, the United States, Australia, Japan, and Singapore competed. Teams from such universities as MIT, Tokyo University, Tokyo Institute of Technology, National University of Singapore, Nanyang Technological University, and Queensland University of Technology participated. In addition to KAIST, Seoul National University and Ulsan University participated.
Using a 4.5 meters long and 2.5 meters wide unmanned boat provided by the organizer, each team had to implement an integrated system that combined a propulsion system, hardware, and autonomous software. Each team's vessel had to perform tasks without manual control, employing autonomous driving through recognition of the course, searching underwater for acoustic sources, automatically approaching piers, remote observation of buoy, and avoidance and detection of obstacles.
Although KAIST outpaced MIT in the semifinal which selected six out of fifteen teams, it won the second place in the final.
As well as winning second prize, KAIST also won best website prize and a special prize from the competition sponsor, Northrop Grumman Corporation, an American defense technology company, totaling 16,500 U.S. dollars of prize money.
The Vice President for Planning and Budget, Professor Seungbin Park said, "It was a great opportunity to showcase the advanced unmanned robot technology of Korea." He added that "this raised KAIST's reputation as a global research oriented university."
Professor Kim commented, "Along with automobiles and drones, the necessity for the development of unmanned ocean vehicles such as unmanned boats and submarines are recognized these days." He added that "the use of unmanned boats will make the process of channel investigation, ocean exploration, surveillance over water territories safer and more effective."
Professor Kim's team was sponsored by the U.S. Office of Naval Research, Samsung Heavy Industries, Sonar Tech, Daeyang Electric, and Red-one Technology.
KAIST Team's Unmanned Boat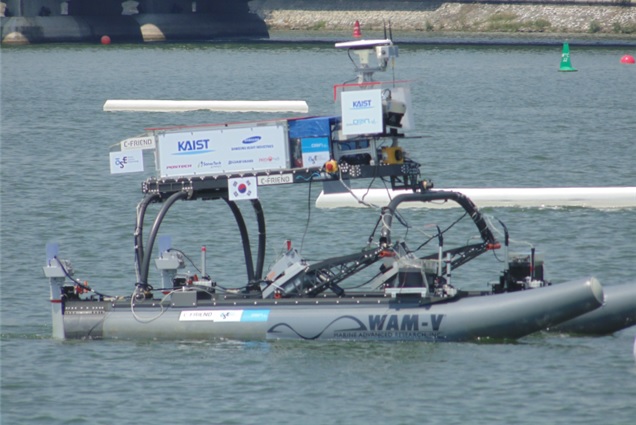 The Competition's Missions