A KAIST team consisted of students from the Departments of Industrial Design and Computer Science participated in the ACM UIST 2014 Student Innovation Contest and received 1st Prize in the category of People's Choice.
The Association for Computing Machinery (ACM) Symposium on User Interface Software and Technology (UIST) is an international forum to promote innovations in human-computer interfaces, which takes place annually and is sponsored by ACM Special Interest Groups on Computer-Human Interaction (SIGCHI) and Computer Graphics (SIGGRAPH). The ACM UIST conference brings together professionals in the fields of graphical and web-user interfaces, tangible and ubiquitous computing, virtual and augmented reality, multimedia, and input and output devices.
The Student Innovation Contest has been held during the UIST conference since 2009 to innovate new interactions on state-of-the-art hardware. The participating students were given with the hardware platform to build on—this year, it was Kinoma Create, a JavaScript-powered construction kit that allows makers, professional product designers, and web developers to create personal projects, consumer electronics, and "Internet of Things" prototypes. Contestants demonstrated their creations on household interfaces, and two winners in each of three categories -- Most Creative, Most Useful, and the People's Choice -- were awarded.
Utilizing Kinoma Create, which came with a built-in touchscreen, WiFi, Bluetooth, a front-facing sensor connector, and a 50-pin rear sensor dock, the KAIST team developed a "smart mop," transforming the irksome task of cleaning into a fun game. The smart mop identifies target dirt and shows its location on the display built in the rod of a mop. If the user turns on a game mode, then winning scores are gained wherever the target dirt is cleaned.
The People's Choice award was decided by conference attendees, and they voted the smart mop as their most favorite project.
Professor Tek-Jin Nam of the Department of Industrial Design at KAIST, who advised the students, said, "A total of 24 teams from such prestigious universities as Carnegie Mellon University, Georgia Institute of Technology, and the University of Tokyo joined the contest, and we are pleased with the good results. Many people, in fact, praised the integration of creativity and technical excellence our have shown through the smart mop."
Team KAIST: pictured from right to left, Sun-Jun Kim, Se-Jin Kim, and Han-Jong Kim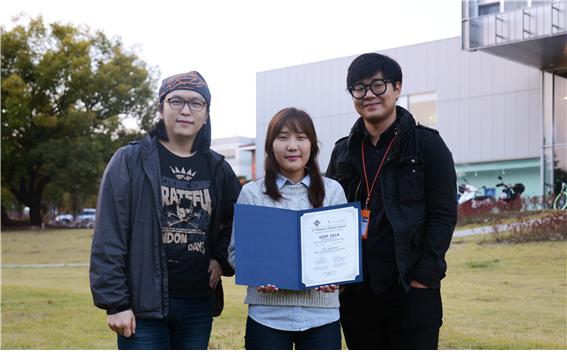 The Smart Mop can clean the floor and offer users a fun game.