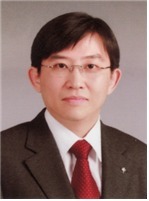 Professor Sang Ouk Kim
Sang Ouk Kim, a professor of Materials Science and Engineering at KAIST, received the 2014 Prime Minister Award from the Korean government for his nano research. The award ceremony, Nano Korea 2014, was held on July 2, 2014 at Coex in Seoul, Korea.
Professor Kim was recognized for his research on the control of various shapes of ultra-fine nano-structures using molecular assembly with ductile materials, such as polymers and carbon nano materials, and for his contribution to the growth of the nano field in Korea.
He developed a new molecular assembly control technology, for the first time in the world, which produced large-scale, ultra-fine nanopatterns through controlling the molecular arrangement of block copolymers. Using this technology, he further created a new semiconductor nanotechnology to reinforce the existing lithographic process of semiconductor manufacturing.
In addition, Professor Kim has focused on making a new type of three-dimensional carbon nano-materials by assembling carbon nanotubes or graphene at the molecular level. Developing a new process to produce nano-materials through the chemical doping process of carbon materials, which can be widely applied to solar cells or energy devices, is one of his research interests as well.
Professor Kim has published a total of 124 papers in international journals, such as Nature, Science, Nature Materials, Nature Communications, Advanced Materials, and Nano Letters. He was recently invited by Advanced Materials to contribute a review article for its 25th anniversary issue.
Professor Kim received both the KAIST Academic Award and the 13th Young Scientist Award of Korea in 2010. Since March 2014, he has served as one of the chair professors of KAIST.
Most recently, he was selected as the Scientist of the Month in June 2014 by the Ministry of Science, ICT and Future Planning, Republic of Korea, and the National Research Foundation of Korea.