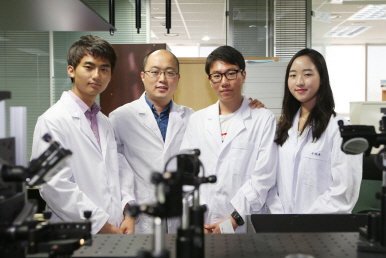 Three undergraduate students under the supervision of Professor YongKeun Park from the Department of Physics, KAIST, have published papers in globally renowned academic journals.
The most recent publication was made by YoungJu Jo, a senior in physics. Jo's paper entitled "Angle-resolved light scattering of individual rod-shaped bacteria based on Fourier transform light scattering" was published in the May 28th edition of Scientific Reports.
Analyzing bacteria is a very important task in the field of health and food hygiene, but using the conventional biochemical methods of analysis takes days. However, observation with Jo's newly developed method using light scattering analyzes bacteria within a matter of seconds.
SangYeon Cho from the Department of Chemistry also published papers in Cell (2012) and Nature (2013), respectively, under the guidance of Professor Park. SangYeon Cho's outstanding research achievements were recognized by Harvard and MIT. He was accepted with a full scholarship to Harvard-MIT Health Sciences and Technology Graduate School. He will begin his graduate studies at Harvard-MIT this September.
Last March, SeoEun Lee from the Department of Biology was the recipient of the Best Paper Award by the Optical Society of Korea. She plans to pursue a doctoral degree at the College of Physicians and Surgeons, Columbia University in New York.
Professor Park said, "Undergraduate students, who are learning a variety of subjects concurrently, are at the most creative time of their lives. KAIST has offered many opportunities to undergraduate students to partake in various research programs."
- Picture (a) and (b): Rod-shaped bacteria's phase image and light-scattering patterns
- Picture (c): Quantitative analysis to illustrate the extraction of information from bacteria