Dr. Yeo Jun Yeop from KAIST's Department of Mechanical Engineering, in a joint research project with Prof. Seung Hwan Ko, has developed a technology that speeds up the nanomanufacturing process by using lasers. Their research is published in the frontispiece of Advanced Functional Materials (July 9th issue).
Fig. The frontispiece of Advanced Functional Materials(July 9th issue)



The research group put a nanomaterial precursor on the board, illuminated it with a continuous-wave laser in the green wavelength range, and succeeded in synthesizing a nanowire at the point they wanted for the first time in the world.


Currently nanomaterials are difficult to mass produce and commercialize due to their complex and costly manufacturing processes which also use toxic gases. However, their new technology simplified the process and so reduced the manufacturing time from some hours to five minutes (1/10th times reduced).


Furthermore, this technology will apply regardless of the type of the board. Such nanometerials can be synthesized at any point on a flexible plastic board or even in three dimensional structures by illuminating them with a simple laser. Academics and industries expect mass production and commercialization of nanomaterials in near future.


Dr. Yeo said he intends to research further to promote early commercialization of multifunctional electronic devices by combining various nanomaterials


This research is sponsored by the National Research Foundation of Korea, the Ministry of Trade, Industry and Energy and KAIST EEWS
Fig. A nanomaterial synthesized after illuminated by lasers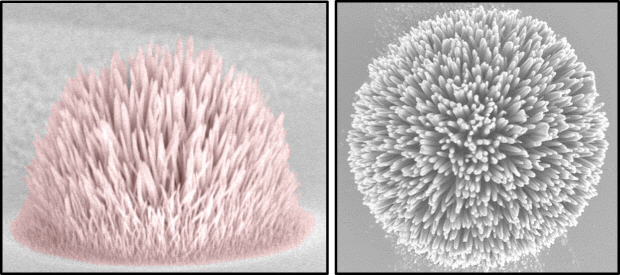 Fig. A nanomaterial synthesized on a three dimensional structure using the developed technology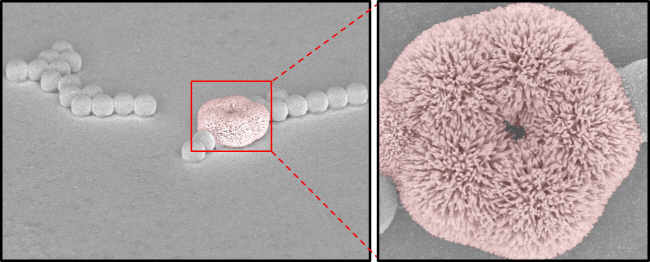 Fig. Functional electron device manufactured by using the synthesized nanomaterials