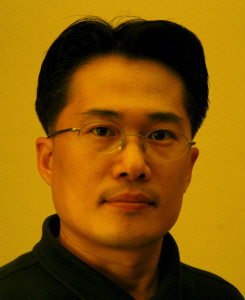 A new game robot concept developed by KAIST researchers came in first place at a world-renowned virtual reality exhibition, despite being the first ever entry by a Korean team.

Professor Lee Woohun's team from the Department of Industrial Design at KAIST won the first-place award of 'Gran Prix du Jury' at the famous virtual reality exhibition, Laval Virtual 2012, which was held between March 28th and April 1st, with the mole game robot, 'MoleBot'.

MoleBot can be enjoyed in a completely physical environment unlike other virtual reality games and allows interaction between the virtual world and reality. Such imaginative interaction attracted numerous spectators during the exhibition.

The MoleBot table consists of approximately 15,000 small cubes, and as the object inside the table moves, the cubes slide as if a mole is inside. By using a joystick, users can enjoy physical interaction with the table and a wide range of games.

The MoleBot can also be operated with hand gestures using 'Kinect', a motion sensing input device developed by Microsoft, making it possible to enjoy games as if playing with a pet.
Professor Lee's team came up with the project from a simple idea: 'What if moles lived inside the table?'

The team first created a table that would hold and allow the movement of the cubes, and then placed a plastic mold underneath it with a layer of spandex in between to lessen the friction, allowing smooth and lifelike movement.

The mold contains magnets that allow the accurate delivery of mechanical movement. After two years of continued additional research, MoleBot was released to the world.

In the acceptance speech, Professor Lee said, 'It is rare for a design team to win first place in an engineering exhibition' and that 'to achieve such a feat, the MoleBot's technological creativity and artistic completeness became one'.

Professor Lee also said that 'this concept of creating an interactive world on a table could potentially become a new game interface' and that he would research on applying this MoleBot technology to different fields such as human-computer interaction, architecture, interior, and clothing.

Laval Virtual is a world-renowned exhibition that displays cutting edge technologies in the field of virtual reality. This year was the 14th exhibit, and over 10,000 people participated in it. The exhibition gives out 12 awards, one per field, and Professor Lee's team won the highest award.