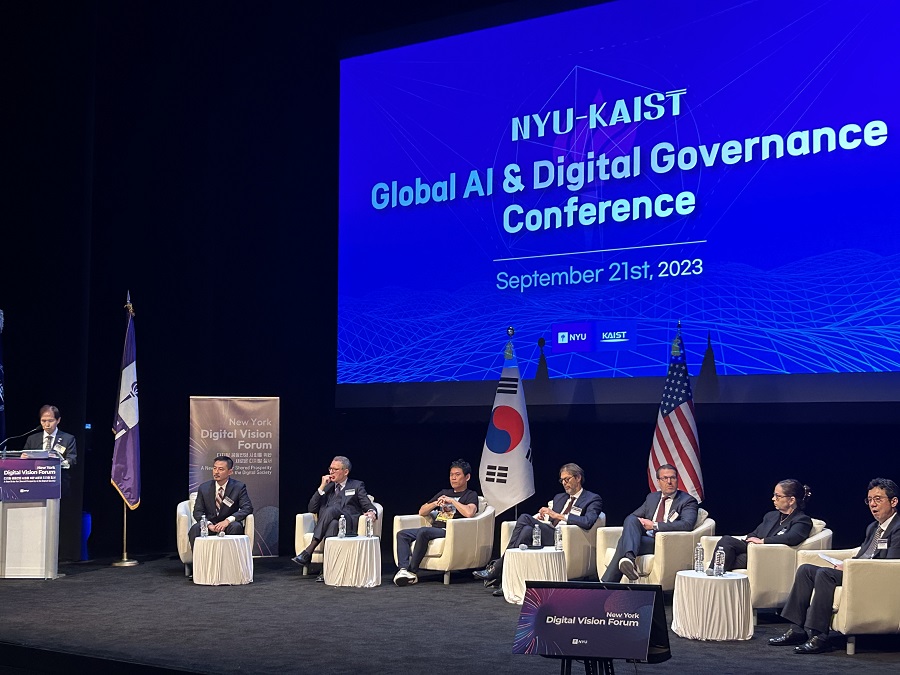 < Photo 1. Opening of NYU-KAIST Global AI & Digital Governance Conference >
In attendance of the Minister of Science and ICT Jong-ho Lee, NYU President Linda G. Mills, and KAIST President Kwang Hyung Lee, KAIST co-hosted the NYU-KAIST Global AI & Digital Governance Conference at the Paulson Center of New York University (NYU) in New York City, USA on September 21st, 9:30 pm.
At the conference, KAIST and NYU discussed the direction and policies for 'global AI and digital governance' with participants of upto 300 people which includes scholars, professors, and students involved in the academic field of AI and digitalization from both Korea and the United States and other international backgrounds. This conference was a forum of an international discussion that sought new directions for AI and digital technology take in the future and gathered consensus on regulations.
Following a welcoming address by KAIST President, Kwang Hyung Lee and a congratulatory message from the Minister of Science and ICT, Jong-ho Lee, a panel discussion was held, moderated by Professor Matthew Liao, a graduate of Princeton and Oxford University, currently serving as a professor at NYU and the director at the Center for Bioethics of the NYU School of Global Public Health.
Six prominent scholars took part in the panel discussion. Prof. Kyung-hyun Cho of NYU Applied Mathematics and Data Science Center, a KAIST graduate who has joined the ranks of the world-class in AI language models and Professor Jong Chul Ye, the Director of Promotion Council for Digital Health at KAIST, who is leading innovative research in the field of medical AI working in collaboration with major hospitals at home and abroad was on the panel. Additionally, Professor Luciano Floridi, a founding member of the Yale University Center for Digital Ethics, Professor Shannon Vallor, the Baillie Gifford Professor in the Ethics of Data and Artificial Intelligence at the University of Edinburgh of the UK, Professor Stefaan Verhulst, a Co-Founder and the DIrector of GovLab's Data Program at NYU's Tandon School of Engineering, and Professor Urs Gasser, who is in charge of public policy, governance and innovative technology at the Technical University of Munich, also participated.
Professor Matthew Liao from NYU led the discussion on various topics such as the ways to to regulate AI and digital technologies; the concerns about how deep learning technology being developed in medicinal purposes could be used in warfare; the scope of responsibilities Al scientists' responsibility should carry in ensuring the usage of AI are limited to benign purposes only; the effects of external regulation on the AI model developers and the research they pursue; and on the lessons that can be learned from the regulations in other fields.
During the panel discussion, there was an exchange of ideas about a system of standards that could harmonize digital development and regulatory and social ethics in today's situation in which digital transformation accelerates technological development at a global level, there is a looming concern that while such advancements are bringing economic vitality it may create digital divides and probles like manipulation of public opinion. Professor Jong-cheol Ye of KAIST (Director of the Promotion Council for Digital Health), in particular, emphasized that it is important to find a point of balance that does not hinder the advancements rather than opting to enforcing strict regulations.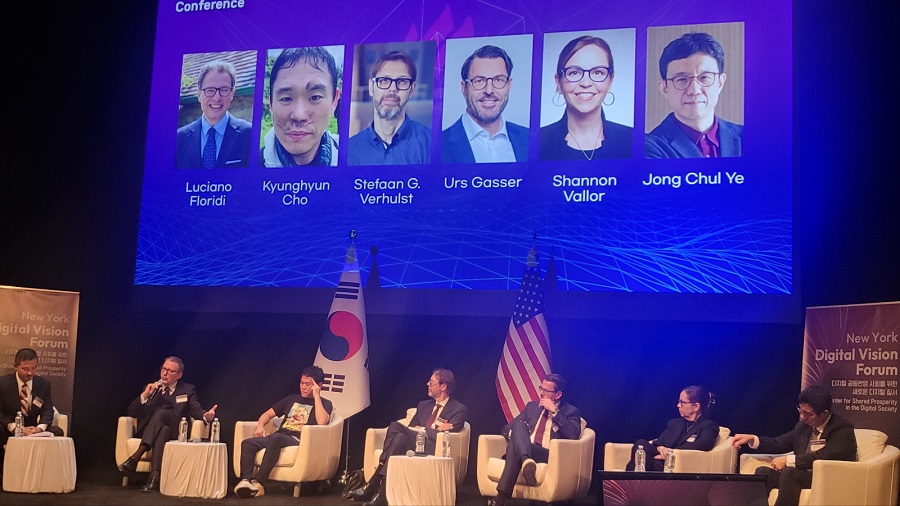 < Photo 2. Panel Discussion in Session at NYU-KAIST Global AI & Digital Governance Conference >
KAIST President Kwang Hyung Lee explained, "At the Digital Governance Forum we had last October, we focused on exploring new governance to solve digital challenges in the time of global digital transition, and this year's main focus was on regulations."
"This conference served as an opportunity of immense value as we came to understand that appropriate regulations can be a motivation to spur further developments rather than a hurdle when it comes to technological advancements, and that it is important for us to clearly understand artificial intelligence and consider what should and can be regulated when we are to set regulations on artificial intelligence," he continued.
Earlier, KAIST signed a cooperation agreement with NYU to build a joint campus, June last year and held a plaque presentation ceremony for the KAIST NYU Joint Campus last September to promote joint research between the two universities. KAIST is currently conducting joint research with NYU in nine fields, including AI and digital research. The KAIST-NYU Joint Campus was conceived with the goal of building an innovative sandbox campus centering aroung science, technology, engineering, and mathematics (STEM) combining NYU's excellent humanities and arts as well as basic science and convergence research capabilities with KAIST's science and technology.
KAIST has contributed to the development of Korea's industry and economy through technological innovation aiding in the nation's transformation into an innovative nation with scientific and technological prowess. KAIST will now pursue an anchor/base strategy to raise KAIST's awareness in New York through the NYU Joint Campus by establishing a KAIST campus within the campus of NYU, the heart of New York.