In the Spring of last year, the legendary, fictional pilot "Maverick" flew his plane in the film "Top Gun: Maverick" that drew crowds to theatres around the world. This year, the appearance of a humanoid pilot, PIBOT, has stolen the spotlight at KAIST.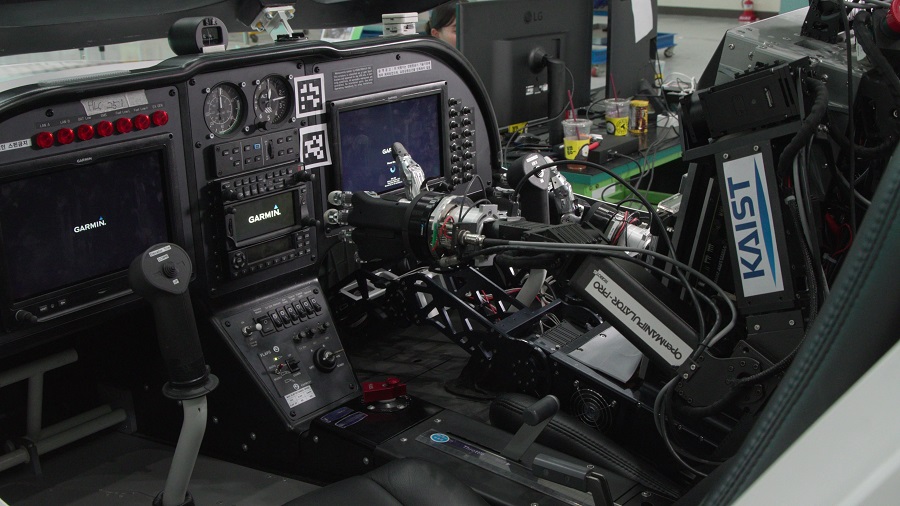 < Photo 1. Humanoid pilot robot, PIBOT >
A KAIST research team has developed a humanoid robot that can understand manuals written in natural language and fly a plane on its own. The team also announced their plans to commercialize the humanoid pilot.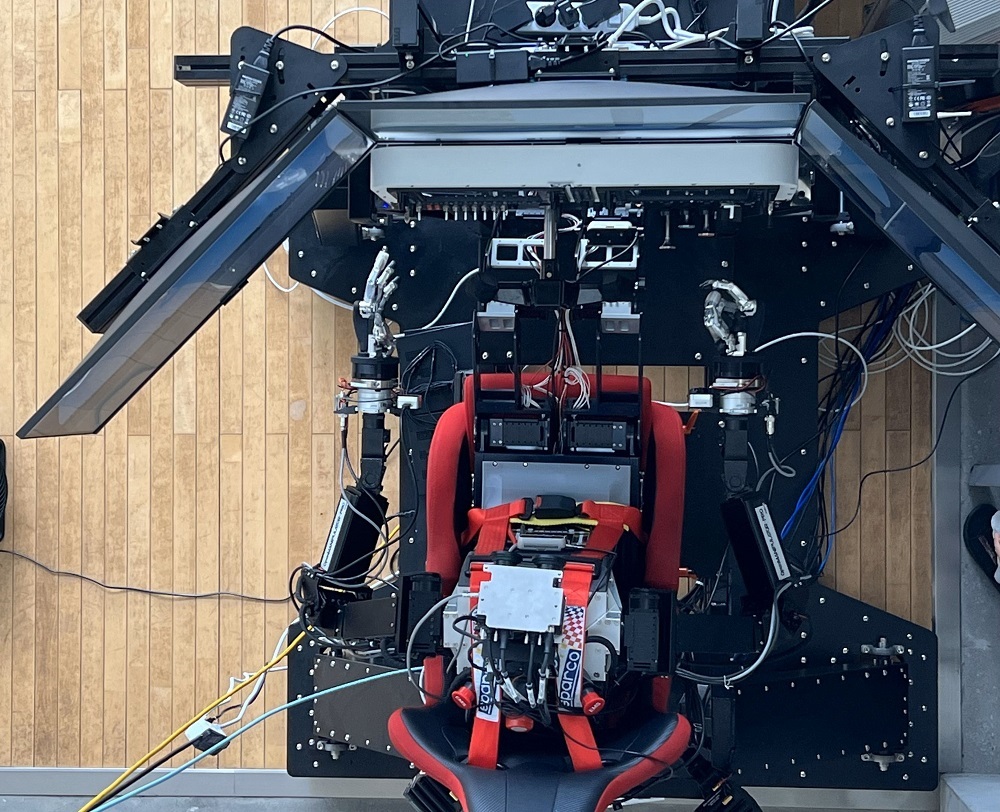 < Photo 2. PIBOT on flight simulator (view from above) >
The project was led by KAIST Professor David Hyunchul Shim, and was conducted as a joint research project with Professors Jaegul Choo, Kuk-Jin Yoon, and Min Jun Kim. The study was supported by Future Challenge Funding under the project title, "Development of Human-like Pilot Robot based on Natural Language Processing". The team utilized AI and robotics technologies, and demonstrated that the humanoid could sit itself in a real cockpit and operate the various pieces of equipment without modifying any part of the aircraft. This is a fundamental difference that distinguishes this technology from existing autopilot functions or unmanned aircrafts.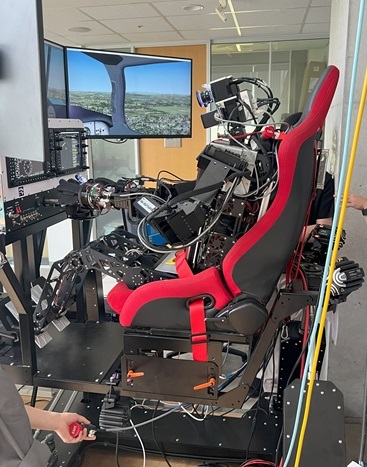 < Photo 3. PIBOT operating a flight simulator (side) >
The KAIST team's humanoid pilot is still under development but it can already remember Jeppeson charts from all around the world, which is impossible for human pilots to do, and fly without error. In particular, it can make use of recent ChatGPT technology to remember the full Quick Reference Handbook (QRF) and respond immediately to various situations, as well as calculate safe routes in real time based on the flight status of the aircraft, with emergency response times quicker than human pilots.
Furthermore, while existing robots usually carry out repeated motions in a fixed position, PIBOT can analyze the state of the cockpit as well as the situation outside the aircraft using an embedded camera. PIBOT can accurately control the various switches in the cockpit and, using high-precision control technology, it can accurately control its robotic arms and hands even during harsh turbulence.
< Photo 4. PIBOT on-board KLA-100, Korea's first light aircraft >
The humanoid pilot is currently capable of carrying out all operations from starting the aircraft to taxiing, takeoff and landing, cruising, and cycling using a flight control simulator. The research team plans to use the humanoid pilot to fly a real-life light aircraft to verify its abilities. Prof. Shim explained, "Humanoid pilot robots do not require the modification of existing aircrafts and can be applied immediately to automated flights. They are therefore highly applicable and practical. We expect them to be applied into various other vehicles like cars and military trucks since they can control a wide range of equipment. They will particularly be particularly helpful in situations where military resources are severely depleted."
This research was supported by Future Challenge Funding (total: 5.7 bn KRW) from the Agency for Defense Development. The project started in 2022 as a joint research project by Prof. David Hyunchul Shim (chief of research) from the KAIST School of Electrical Engineering (EE), Prof. Jaegul Choo from the Kim Jaechul Graduate School of AI at KAIST, Prof. Kuk-Jin Yoon from the KAIST Department of Mechanical Engineering, and Prof. Min Jun Kim from the KAIST School of EE. The project is to be completed by 2026 and the involved researchers are also considering commercialization strategies for both military and civil use.