KAIST (President Kwang Hyung Lee) announced on the 29th that it has solicited a development fund of KRW 1 billion from MVITRO (CEO Young Woo Lee) for joint research at the KAIST-NYU Joint Campus, which is being pursued to be KAIST's first campus on the United States.
KAIST plans to use this development fund for research and development of various solutions in the field of 'Healthcare at Home' among several joint researches being conducted with New York University (hereinafter referred to as NYU).
Young Woo Lee, the CEO of MVITRO, said, "We decided to make the donation with the hope that the KAIST-NYU Joint Campus will become an ecosystem that would help with Korean companies' advancement into the US."
After announcing its plans to enter New York in 2021, KAIST has formed partnerships with NYU and New York City last year. Currently, NYU and KAIST are devising plans for mid- to long-term joint research in nine fields of studies including AI and bio-medicine and technology, and are promoting cooperation in the field of education, including exchange students, minors, double majors, and joint degrees under the joint campus agreement,
The ceremony for the consigning of MVITRO Co., Ltd.'s donation was held at the main campus of KAIST in the afternoon of the 29th and was attended by KAIST officials such as President Kwang Hyung Lee and Jae-Hung Han, the executive director of KAIST Development Foundation, along with the NYU President-Designate Linda G. Mills, and the CEO of MVITRO, Young Woo Lee.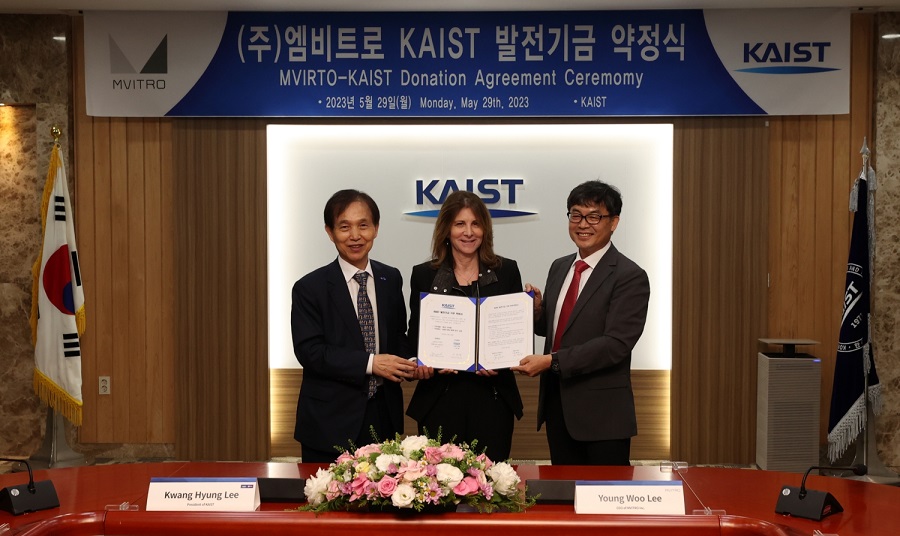 < Photo. (from left) Kwang Hyung Lee, the President of KAIST, Linda G. Mills, the President-Designate of NYU, and Young Woo Lee, the CEO of MVITRO, pose for the photo with the signed letter of donation on May 29, 2023 at KAIST >
Linda Mills, the nominee designated to be NYU president next term said, "I am proud to join our colleagues in celebrating this important gift from MVITRO, which will help support the partnership between KAIST and NYU. This global partnership leverages the distinctive strengths of both universities to drive advances in research poised to deliver profound impact, such as the intersections of healthcare, technology, and AI."
President Kwang Hyung Lee said, "The KAIST-NYU Joint Campus will be the first step in extending KAIST's excellent science and technology capabilities to the international stage and will serve as a bridgehead to help excellent technological advancements venture into the United States." Then, President Lee added, "I would like to express my gratitude to MVITRO for sympathizing with this vision. I will work with NYU to lead the creation of global values."
On a different note, MVITRO Co., Ltd., is a home medical device maker that collaborated with Hyundai Futurenet Co., Ltd. to develop an IoT product that combined a painless laser lancet (blood collector) and a blood glucose meter into one for a convenient at-home health support, which received favorable reviews from overseas buyers at CES 2023.