KAIST (President Kwang Hyung Lee) announced on the 29th that it has signed MOUs with Massachusetts General Hospital, a founding member of the Mass General Brigham health care system and a world-class research-oriented hospital, and Moderna, a biotechnology company that developed a COVID-19 vaccine at the Langham Hotel in Boston, MA, USA on the morning of April 28th (local time). The signing ceremony was attended by officials from each institution joined by others headed by Minister LEE Young of the Korean Ministry of SMEs and Startups (MSS), and Commissioner LEE Insil of the Korean Intellectual Property Office.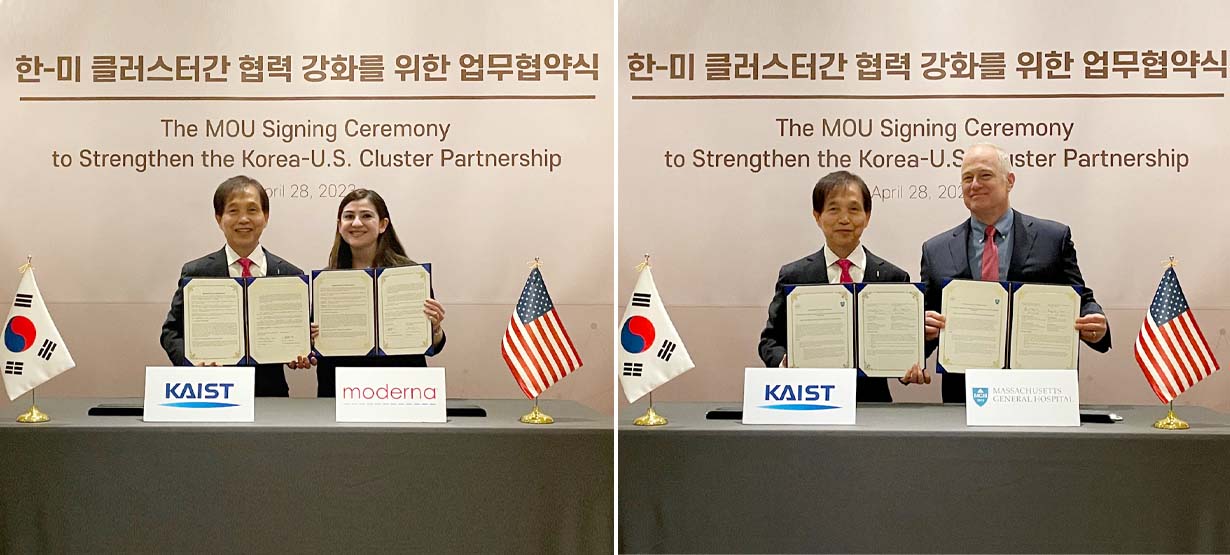 < Photo 1. Photo from the Signing of MOU between KAIST-Harvard University Massachusetts General Hospital and KAIST-Moderna >
Mass General is the first and largest teaching hospital of Harvard Medical School in Boston, USA, and it is one of the most innovative hospitals in the world being the alma mater of more than 13 Nobel Prize winners and the home of the Mass General Research Institute, the world's largest hospital-based research program that utilizes an annual research budget of more than $1.3 billion.
KAIST signed a general agreement to explore research and academic exchange with Mass General in September of last year and this MOU is a part of its follow-ups.
Mass General works with Harvard and the Massachusetts Institute of Technology (MIT), as well as local hospitals, to support students learn the theories of medicine and engineering, and gain rich clinical research experience.
Through this MOU, KAIST will explore cooperation with an innovative ecosystem created through the convergence of medicine and engineering. In particular, KAIST's goal is to develop a Korean-style training program and implement a differentiated educational program when establishing the science and technology-oriented medical school in the future by further strengthening the science and engineering part of the training including a curriculum on artificial intelligence (AI) and the likes there of.
Also, in order to foster innovative physician-scientists, KAIST plans to pursue cooperation to develop programs for exchange of academic and human resources including programs for student and research exchanges and a program for students of the science and technology-oriented medical school at KAIST to have a chance to take part in practical training at Mass General.
David F.M. Brown, MD, Mass General President, said, "The collaboration with KAIST has a wide range of potentials, including advice on training of physician-scientists, academic and human resource exchanges, and vitalization of joint research by faculty from both institutions. Through this agreement, we will be able to actively contribute to global cooperation and achieve mutual goals."
Meanwhile, an MOU between KAIST and Moderna was also held on the same day. Its main focus is to foster medical experts in cooperation with KAIST Graduate School of Medical Science and Engineering (GSMSE), and plans to cooperate in various ways in the future, including collaborating for development of vaccine and new drugs, virus research, joint mRNA research, and facilitation of technology commercialization.
In over 10 years since its inception, Moderna has transformed from a research-stage company advancing programs in the field of messenger RNA (mRNA) to an enterprise with a diverse clinical portfolio of vaccines and therapeutics across seven modalities. The Company has 48 programs in development across 45 development candidates, of which 38 are currently in active clinical trials.
"We are grateful to have laid a foundation for collaboration to foster industry experts with the Korea Advanced Institute of Science and Technology, a leader of science and technology innovation in Korea," said Arpa Garay, Chief Commercial Officer, Moderna. "Based on our leadership and expertise in developing innovative mRNA vaccines and therapeutics, we hope to contribute to educating and collaborating with professionals in the bio-health field of Korea."
President Kwang Hyung Lee of KAIST, said, "We deem this occasion to be of grave significance to be able to work closely with Massachusetts General Hospital, one of the world's best research-oriented hospitals, and Moderna, one of the most influential biomedical companies."
President Lee continued, "On the basis of the collaboration with the two institutions, we will be able to bring up qualified physician-scientists and global leaders of the biomedical business who will solve problems of human health and their progress will in turn, accelerate the national R&D efforts in general and diversify the industry."