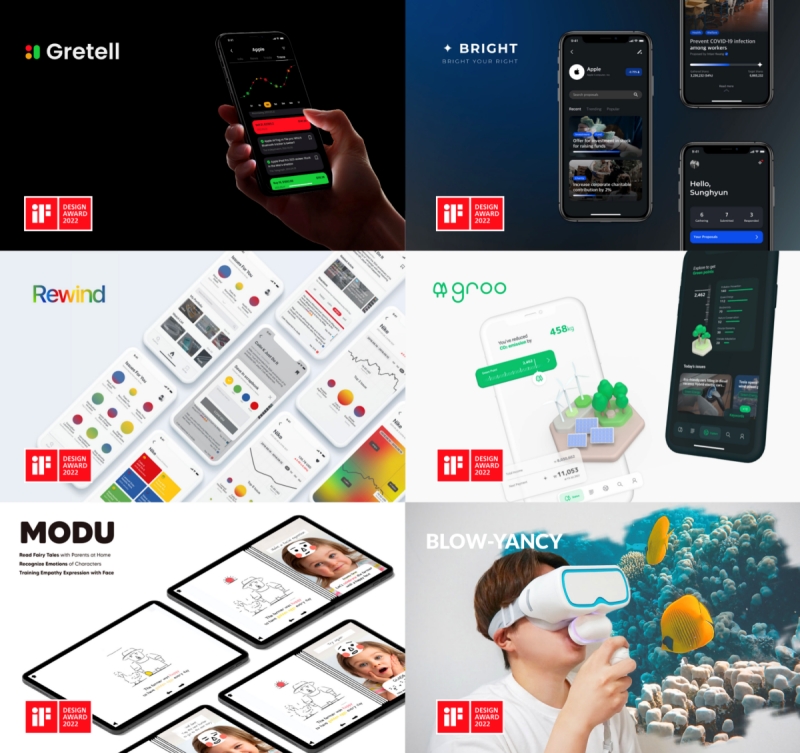 Professor Sang Su Lee from the Department of Industrial Design and his team's five apps made in collaboration with NH Investment and Securities won iF Design Awards in the fields of UI, UX, service design, product design, and communication. These apps are now offered as NH Investment and Securities mobile applications.
The iF Design Awards recognize top quality creativity in product design, communication, packaging, service design and concepts, and architecture and interior design, as well as user experience (UX) and interface for digital media (UI).
In the field of UI, 'Gretell' is a mobile stock investment app service designed by Lee and his team to support investors struggling to learn about investing by archiving personalized information. Gretell provides investment information including news and reports. Users learn, evaluate, and leave comments. This shows both quantitative and qualitative indications, leading to rational decision-making. Other user's comments are shared to reduce confirmation bias. Through this process, Gretell helps users who are impulsive or easily swayed by others' opinions to grow as independent investors.
'Bright' is another app created by Lee's team. It helps people exercise their rights as shareholders. As the need to exercise shareholders' rights increases, many people are frustrated that investors with a small number of shares don't have a lot of power. Bright provides a space for shareholders to share their opinions and brings people together so that individuals can be more proactive as shareholders. The Integrated Power of Attorney System (IPAS) expands the chances for shareholders to exercise their rights and allows users to submit proposals that can be communicated during the general meeting. Bright fosters influential shareholders, responsible companies, and a healthy society.
For communications, 'Rewind' is a stock information services app that visualizes past stock charts through sentiment analysis. Existing services focus on numbers, while Rewind takes a qualitative approach. Rewind analyzes public sentiment toward each event by collecting opinions on social media and then visualizes them chronologically along with the stock chart. Rewind allows users to review stock market movements and record their thoughts. Users can gain their own insights into current events in the stock market and make wiser investment decisions. The intuitive color gradient design provides a pleasant and simplified information experience.
In the area of interfaces for digital media and service design, 'Groo' is a green bond investing service app that helps users participate in green investment though investing in green bonds that support green projects for environmental improvement. Not restricted to trading bonds, Groo joins users in the holistic experience of green investing, from taking an interest in environmental issues to confirming the impact of the investment.
Next, 'Modu' is a story-based empathy expression training game for children with intellectual disabilities. Modu was developed to support emotion recognition and empathy behavior training in children with mild intellectual disabilities (MID) and borderline intellectual functioning (BIF).
Finally, the diving VR device for neutral buoyancy training, 'Blow-yancy', also made winner's list. The device mimics scuba diving training without having to go into the water, therefore beginner divers are able getting feeling of diving while remaining perfectly safe and not harming any corals. It is expected that the device will be able to help protect at-risk underwater ecosystems.