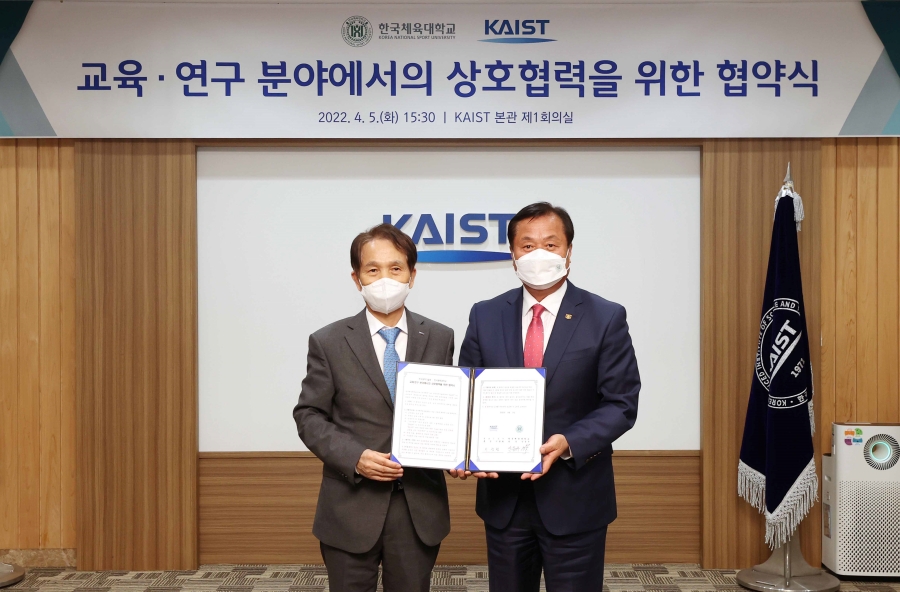 < KAIST President Kwang Hyung Lee (left) and KNSU President Yong-Kyu Ahn pose after signing the MOU on April 5 at the KAIST main campus. >
KAIST President Kwang Hyung Lee signed an MOU with Korea National Sport University (KNSU) President Yong-Kyu Ahn for collaboration in education and research in the fields of sports science and technology on April 5 at the KAIST main campus. The agreement also extends to student and credit exchanges between the two universities.
With this signing, KAIST plans to develop programs in which KAIST students can participate in the diverse sports classes and activities offered at KNSU.
Officials from KNSU said that this collaboration with KAIST will provide a new opportunity to recognize the importance of sports science more extensively. They added that KNSU will continue to foster more competitive sports talents who understand the convergence between sports science and technology.
The two universities also plan to conduct research on body mechanics optimizing athletes' best performance, analyze how the muscles of different events' athletes move, and will propose creative new solutions utilizing robot rehabilitation and AR technologies. It is expected that the research will extend to the physical performance betterment of the general public, especially for aged groups and the development of training solutions for musculoskeletal injury prevention as Korean society deals with its growing aging population.
President Lee said, "I look forward to the synergic impact when KAIST works together with the nation's top sports university. We will make every effort to spearhead the wellbeing of the general public in our aging society as well as for growth of sports."
President Ahn said, "The close collaboration between KAIST and KNSU will revitalize the sports community that has been staggering due to the Covid-19 pandemic and will contribute to the advancement of sports science in Korea."